Social Media @Paessler
Originally published on July 03, 2013 by Christine Lindner
Last updated on January 30, 2018 • 12 minute read
Twitter, Facebook, Google+, LinkedIn, you name it. A lot of social media platforms that modern companies must be present on. That is at least what all the books, consultants and the media say. Well, here at Paessler we are always driven by innovation and we like to be on the forefront of technologies so of course we jumped straight into the social media adventure as well.
Everyday our team takes care of 5 Twitter accounts (English, German, Spanish, Portuguese, and French) and 2 Facebook accounts (PRTG Network Monitor and Paessler). We also have accounts on Google+, LinkedIn, YouTube and several other platforms. This requires a lot of work as you can imagine! But we've got help: we use a tool that shows all accounts at a glance with all the important information you need on a daily basis such as mentions, posts, retweets and likes.
In this blog article we would like to give you some insights into our social media activities here at Paessler.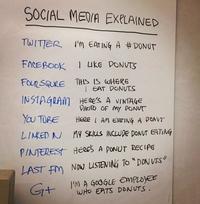 Why We Do Social Media Marketing
We Listen To Our Audience
At Paessler we want to build a relationship with our target group, the IT people out there, and increase our brand awareness so social media is something we have to consider! It shows that we are listening to what our customers say about us or our products and, most importantly, let people know that they are being heard. Support questions regarding PRTG usually can't be answered in 140 characters but we try, even if it is just a "Thanks, we will get back to you" note. They will appreciate us getting back to them and caring. Also, having a platform to request features is a great way of our customers being involved in the development process of PRTG.
Thought Leadership
By sharing valuable and relevant information with our network we proof that we are knowledgeable in our field of business. Readers will turn to us when they know that we know what is going on in our market. We offer content that is interesting to read (product news or industry insights), that is exclusive to this audience (promotions), that is lighthearted and funny (so they will share with their network), that simply offers value to the reader. We found that our best performing tweets and posts are our blog entries as they offer a deep insight into a specific technical topic related to PRTG. Pictures and videos, especially when they are showing how we work and what we do over here in Germany (eating ice cream, dressing up for carnival, using the PRTG bag for racing through the office, you name it), are great, too.
Search Engine Optimization
Building a relationship with your customer is one thing, building your search visibility quite another. Social media plays a big part in the search engine optimization. The more you post, the more of your content can be found in the search engines which then increases your ranking. So if potential customers search for network monitoring vendors we would like them to find Paessler rather quickly to divert them to our website and trial download page. We believe that social media content helps to achieve that and also gives potential customers an idea of who we are and what we can offer to them.
The Content We Post
Considering all the above, our goal when posting something is to create engagement with our readers: we want to convert the audience from passive observers into active participants. Every like or retweet counts because this spreads our message across their networks. Just think of a friend of yours that is liking some website or post on Facebook - you will at least scan what he liked because, well, he is your friend and what he likes is surely of interest to you, too! Engage with your readers, be their friend. The best social media accounts let you think "Oh, I wonder what they have posted today." so we try to achieve that. Good ways to do that is posting questions ("What do you think of...?" or "Will you join event...?") or asking our readers to join a specific activity. You have probably seen the quite popular PRTG bag campaign on our Facebook page. We offer a free bag in exchange of a photo taken at a beautiful spot somewhere in the world. The pictures are posted on our Facebook account which is not only fun to view but also a great way for the photographer to show off!
In the end it is all about an interesting, light but meaningful mix of content that people are attracted to, that they would like to read, that they would like to share. We try to communicate socially in the same way as we do in our daily business: professionally but lightly. As long as the posts are authentic and reflect our values everything is fine. Here is what we usually post across all accounts:
PRTG news (how to's, new features, reviews etc.)
Paessler news (press stuff, events, job offers etc.)
Industry news (industry events, market trends, all kind of information that a network admin might find useful)
Competitions and social media campaigns (The PRTG bag around the world, My PRTG Sensor etc.)
More "personal" information such as funny pictures from events, from our daily office life etc.
Word Of Mouth - Invaluable!
Social Media is priceless when it comes to professional brand management. By that we not only think of the online interaction with our fans and followers. We also know that they can be the ones influencing others in their decisions. If you needed to decide between two products that offer similar features at a similar price wouldn't you go for the authentic product that your friend has recently told you about because he fixed the problem with the mail server before all the ladies from the marketing department called him to complain about not being able to send any email again and he was actually in the position to tell them over coffee that there was a problem that they just didn't know about and they thanked him and brought him home-baked cookies the next day? Well, that story probably isn't true but you get the message. We try to create content that our networks will talk about, either online or offline. When the stories we tell are interesting enough and therefore worth sharing and when our software helps to make lives easier (hence the network admin hero story) then there is a good chance that we will win new customers because another tells them about their experience with Paessler.
Do you know that video of the fake brand "Blank"? It pretty much tells you all there is to know about word of mouth and social media marketing:
That is how we do social media marketing at Paessler and we can say for sure that we are on the right track: our Facebook account had 911 fans at the beginning of this year. Today we can share our content with 1510 fans. Wow!
A Selection of Twitter Mentions
@AlexandersDad: Outstanding work on the new UI @paesslerAG!! Great treat to start the week!
@gomibushi: @paesslerAG Updated PRTG two days ago and wow is it snappy! Going to design a nice "map" for my secondary monitor now.
@303MAS: Just upgraded to the new version of @paesslerAG #PRTG and it looks amazing! Well done to everyone involved at @paesslerAG .
@JaredLancaster: @paesslerAG 3 times the week PRTG alerted us to issues before they became an issues to users. Worth it's weight in Gold.
@adambenson: Great chatting with @paesslerAG at #clus - looking forward to working together. PRTG is a great product. Important piece of monitoring