Paessler acquired Qbilon: Let's dive into the future of IT landscape analysis!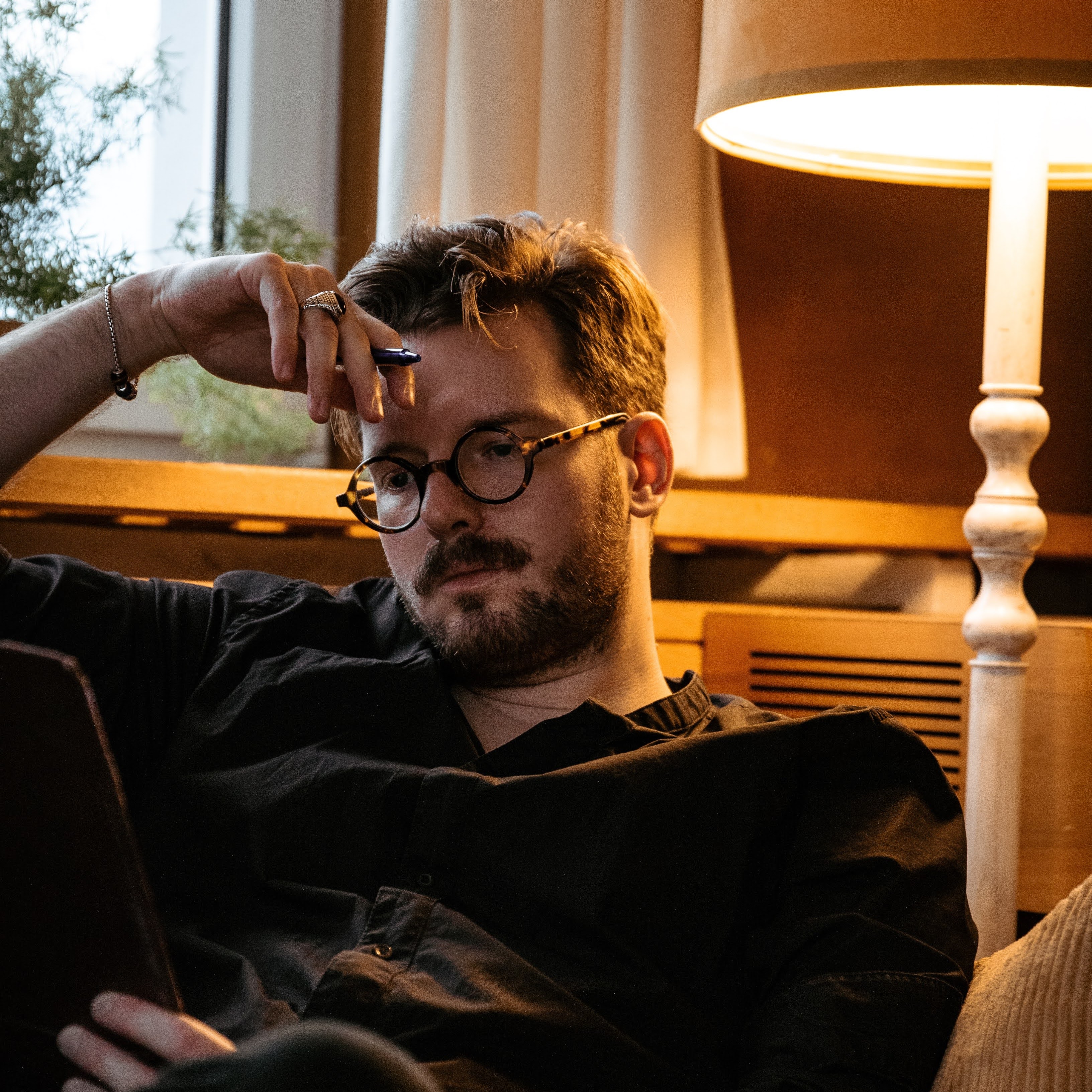 Originally published on September 22, 2023 by Patrick Gebhardt
Last updated on October 05, 2023 • 8 minute read
In the ever-evolving tech landscape, staying ahead of the curve is paramount. That's why we at Paessler made a decisive move by acquiring Qbilon, a promising trailblazer in IT landscape analysis. This acquisition isn't just about expanding our portfolio; it's about reshaping the way IT departments interact with their infrastructures.
👉 We will take a look at the massive ROI benefit that Qbilon brings, but first, let's look at what they do, and why they caught our eye.
Why Qbilon caught our eye
Back in 2019, a group of computer scientists from the University of Augsburg embarked on a mission. Their goal? To redefine the way businesses perceive their IT landscapes. Their software solutions, notably Qbilon Cloud and Qbilon Ultimate, provide a lens into the intricate world of IT infrastructures. It's like having a constantly updated map of a vast, evolving city.
What this means for our customers
With Qbilon now part of the Paessler family, here's what's in store:
In-depth IT insights — Qbilon's architecture mining offers a real-time view of your IT landscape. It's not just about seeing the bigger picture; it's about understanding every pixel.
Cost efficiency — With tools that pinpoint unused or oversized resources, Qbilon ensures that every penny spent on your IT infrastructure counts.
Robust security — In today's digital age, security isn't a luxury; it's a necessity. Qbilon helps to identify potential vulnerabilities, ensuring your IT setup remains a fortress.
Operational efficiency — Say goodbye to the days of manual IT documentation. Qbilon automates the mundane, freeing up your team to focus on innovation and transformation.
From cloud governance to documentation and reporting: Companies with intricate IT infrastructure can greatly benefit from Qbilon, for which PRTG serves as a data source (possibly beside others). This powerful combination offers a comprehensive view of technical dependencies and processes, streamlining IT management. By incorporating Qbilon, businesses can elevate their Enterprise Architecture Management (EAM) and IT documentation, achieving a centralized architecture overview that's readily accessible to IT teams. The synergy between PRTG's real-time network monitoring and Qbilon's IT intelligence ensures optimal performance, early identification of potential bottlenecks, and proactive problem resolution.
Zooming in on Qbilon Cloud
Qbilon Cloud, a tool designed for multi-cloud environments, stands out as a smart IT intelligence solution. Here's what sets it apart:
Automatic data updates — With Qbilon, integrating data from various sources is a cinch. Set your update frequency, and let Qbilon handle the rest, ensuring you always have the freshest insights at your fingertips.
Best practice reports — From day one, Qbilon offers a suite of best practice reports, providing actionable insights to optimize costs and enhance security.
Custom dashboards — Tailor your insights with custom reports, from charts to tables. With Qbilon, you're in the driver's seat, crafting the narrative of your IT landscape.
Graph views — The heart of Qbilon lies in its graph views. These visual representations offer a deep dive into your environment, making it easy to spot dependencies and gain a holistic understanding of the entire IT infrastructure.
Unpacking Qbilon Ultimate
Qbilon Ultimate offers everything that Qbilon Cloud has and much more. This tool takes architecture modeling and analysis to the next level. Here are some of the most important advantages:
Detailed dependency analysis — By integrating data from diverse sources, Qbilon Ultimate offers dependency insights, from high-level assets to intricate infrastructure elements.
Data analytics tailored for you — Dive deep into your data with adaptive data preparation mechanisms. Apply custom color rules and data constraints across all views and reports, ensuring your analyses are sharp and focused.
Automatic data capturing — With Qbilon Ultimate, your IT documentation is always up-to-date. This not only ensures data integrity but also empowers businesses to quickly identify causes of failures and thus bolsters IT resilience.
Governance — Automate your governance tasks with powerful reports and analyses. With configurable views, monitoring critical security and organizational issues is always a feasible task.
The numbers that matter
To appreciate the value Qbilon brings to the table, let's dive into some hard-hitting stats. Qbilon has analyzed in detail the ROI their solutions offer to customers, categorized by different fields of application and use cases. Find the results in the table below: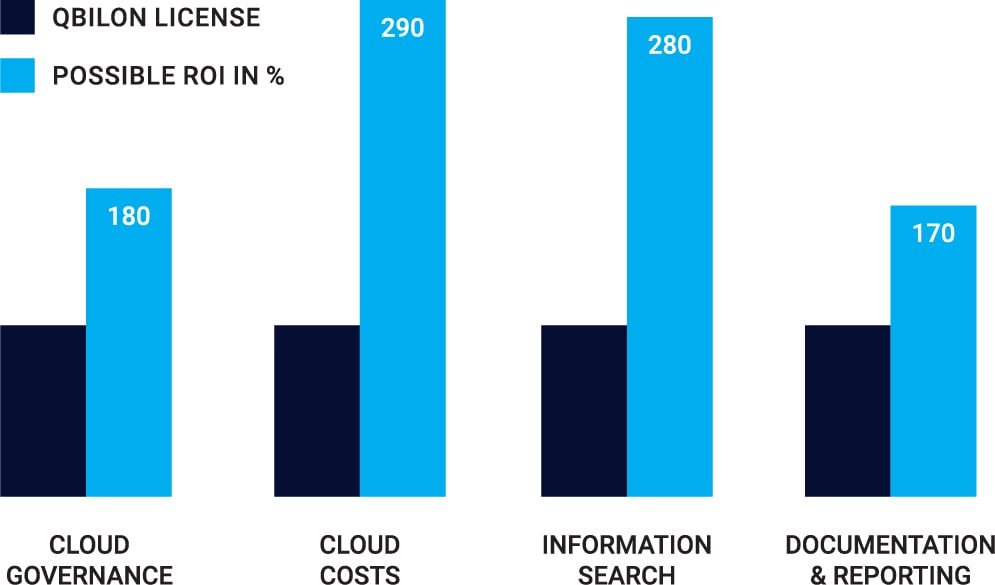 This table demonstrates that Qbilon's IT solutions help reduce costs and offer high value for the money invested. This is based on an individual, but realistic number of IT assets, which significantly determine the level of ROI. Unnecessary cloud costs – caused by factors like unused or underperforming machines and forgotten data storage – were calculated at approximately €700,000 across around 50,000 assets. Optimized provisioning can save at least 10% of this.
In the case of cloud governance, on the other hand, a figure of around 100,000 IT assets was calculated, with the saved costs for eliminated time-consuming manual work amounting to €72,000. All these figures underscore the tangible benefits Qbilon offers, from significant cost savings to enhanced operational efficiency.
In conclusion
Our acquisition of Qbilon signifies our commitment to pushing the boundaries of IT monitoring and IT intelligence. While we open a great opportunity for our customers to systematically enrich their PRTG monitoring with Qbilon's solutions, we're not just promoting tools; we're providing a vision of a future where IT transparency, efficiency, and security are the norm. As we embark on this journey, we invite you to join us, explore the possibilities, and shape the future of IT landscape analysis.