The Multi-Platform Probe and the state of its development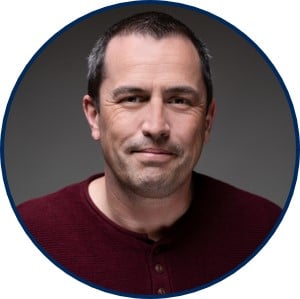 Originally published on March 22, 2023 by Michael Becker
Last updated on August 15, 2023 • 11 minute read
Over a year has passed since we introduced the Multi-Platform Probe, which can be installed on Windows and Linux systems as well as on ARM-based devices and Docker. This allows you to extend the native monitoring functionality of PRTG to other platforms. It is even possible to run a PRTG probe on some NAS systems or a Raspberry PI. Depending on the use case, this opens up completely new and cost-effective ways to reach all parts of a network.
👆 Please read first
The Multi-Platform Probe is currently in an alpha phase. Unexpected issues can occur. We do not recommend that you use the feature on your production system. Please also be aware that features are still missing and that the functionality is limited.


For a current overview of the limitations, refer to knowledge base article What is the Multi-Platform Probe and how can I use it?.


Nevertheless, it is very important for us to share the status with you as soon as possible, because you work with PRTG every day and we know how eagerly many of you have been waiting for a PRTG probe running on Linux & Co.
What is the current development state?
There may be features currently lacking, but that doesn't mean you shouldn't install the probe and have a go. There are already a lot of features you can use. We are also developing a new sensor system in conjunction with the Multi-Platform Probe that allows us to deploy sensors much faster and more flexibly.
Since the release of PRTG version 23.1.82 the following sensors are available for the Multi-Platform Probe:
With this "sensor package" you are essentially able to monitor the availability of your systems and write scripts to monitor further aspects.
To give you an idea of what you can already monitor with the Multi-Platform Probe and how you can help us to develop this probe according to your needs, watch this video from our colleague Souzana:
How can I install the Multi-Platform Probe?
The Multi-Platform Probe consists of three different components:
Probe adapter
NATS server
Multi-Platform Probe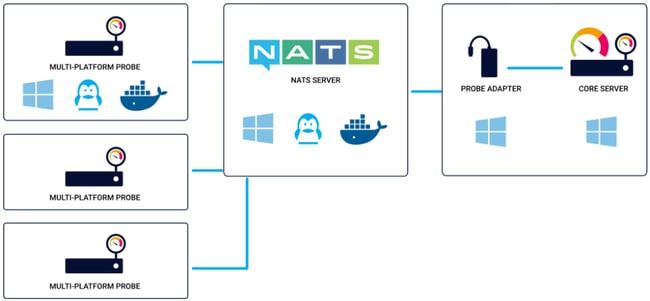 For the installation, we provide scripts for Windows and Linux that install the required NATS broker and prepare the connection to the existing PRTG installation. The installation of the Multi-Platform Probe takes 3 different steps to complete. If you want to run the installation on Docker, one more step is required.
Step 1: Download and install the NATS server
Step 2: Download and install the probe adapter
Step 3: Download and install the Multi-Platform Probe
Step 4 (optional): Run the NATS server or the Multi-Platform Probe on Docker
We are aware that currently the installation still requires some manual effort. However, we are already working on an automated installation process.
Watch the following video in which we summarize the installation step by step:
For Linux:
For Windows:
iPlease note
We are currently suspending development of Multi-Platform Probe for Windows. For Microsoft operating systems, please continue to use the remote probe.

👉 For more information, please see the Multi-Platform Probe Release Notes.
What is the difference to Remote Probes?
Both Remote Probes and the Multi-Platform Probe are components of Paessler PRTG.
Remote Probes can be installed on remote computers running a Microsoft operating system to monitor devices and systems at remote locations. The monitoring data collected by a Remote Probe is transmitted to the central PRTG instance.

The Multi-Platform Probe, on the other hand, can be installed on other operating systems besides Microsoft. These include Linux operating systems such as Ubuntu, Debian and CentOS. Furthermore, this probe can be installed on ARM-based devices, such as Raspberry Pi, but also on Docker.
So the main difference, between the two probes (apart from the stage of development) is that Remote Probes can only be installed on remote Microsoft operating systems, while the Multi-Platform Probe supports additional operating systems. If you would like to read more about PRTG Probes, have a look here:
👉 Everything you should know about probes in PRTG
Join one of our free webinars!
Sorry, this webinar has already taken place in May 2023. But no worries, our Development Insights webinars are available on a regular basis.
Just take a look here: 👉 PRTG Development Insights for Users
We would also like to invite you to our upcoming PRTG Development Insights Webinar. Sign up today for the webinar on to get involved in the next milestone for our PRTG Multi-Platform Probe.
Get your front row seat to development and get insights before anyone else! No marketing, no sales - just pure technical insights and room for your feedback!