Monitoring availability and energy efficiency in large data centers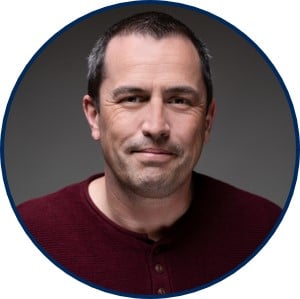 Originally published on September 29, 2022 by Michael Becker
Last updated on November 24, 2022 • 8 minute read
Availability is not just a buzzword when talking about monitoring large or distributed data centers, but is one of the most important aspects of it. Every IT administrator or IT responsible person has the goal of avoiding downtime at all costs. Not only does downtime mean annoyed users, it can also quickly lead to financial losses for a company. Today, the availability of business services goes hand in hand with the availability of IT services.

Especially for MSPs, customer satisfaction is critical, so there is no room for unavailable or non-functioning business environments. For this reason, any interruption of services needs to be a thing of the past!
👉 Quit playing games with the heart of your IT
This is where Paessler PRTG Enterprise Monitor comes in: Our monitoring software paves the way to high availability. PRTG warns you in time to take action before downtime occurs.
What availability of IT services means
In the same way that an IP packet travels from the physical to the application layer, network monitoring needs to cover all aspects from the Ethernet connection to the residing service.
This means that if you want to monitor the availability of an IT service like a web shop that is hosted on a virtualization host, for example, you also need to monitor all underlying layers including the physical machine, the virtualization platform, the operating system, and the application.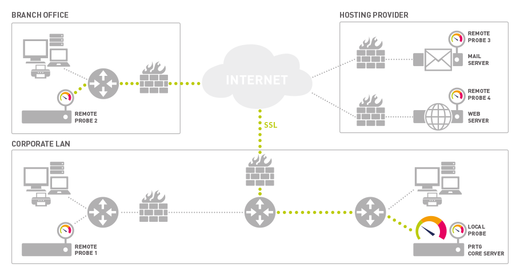 But this is just one example. The larger a company is, the larger and more complex its IT infrastructure and its data centers (which are typically distributed across a city, a country or even the world) are. Paessler PRTG Enterprise Monitor includes all the sensors you need to monitor the availability of all systems and services. These are especially:
Email availability
Server availability
Bandwidth availability
Network availability
and much more
99% availability is not enough
99% availability means a downtime of 87.7 hours per year, which is equivalent to 3.65 days. When it comes to the availability of your website, servers, and databases, only one figure matters: 99.999%, which means downtime of just 5 minutes per year. This number is the indicator for the high availability of your data center and PRTG helps you to achieve this ambitious goal. Reduce downtime and enjoy a significantly more reliable data center.
i This overview shows the various availability classes:
Class 2: 99% = 87.7 hours of downtime per year
Class 3: 99.9% = 8.45 hours of downtime per year
Class 4: 99.99% = 52 minutes of downtime per year
Class 5: 99.999% = 5 minutes of downtime per year
(figures are rounded)
Optimization of energy efficiency
Power supply and power consumption efficiency are among the most important issues in data center operation, especially in larger companies. First and foremost, the power supply for IT and equipment must be guaranteed at all times. However, in times of rising energy prices, operating costs are also increasing and therefore represent a major part of a company's total expenses.
Nevertheless, there are also various potentials for optimizing resource consumption. The main focus here is to have a holistic view of the corresponding infrastructure of the data center(s) as well as the IT systems. PRTG creates the necessary transparency and enables a comprehensive analysis. In this way, current IT workloads, excessive reserves, redundancies or backups that may not even be required can be identified and optimized to help to save energy.
Our team is here to help
Do you have questions regarding pricing, new licenses, maintenance and updates?