How to Use Our New Native SNMP Fujitsu System Health Sensor in PRTG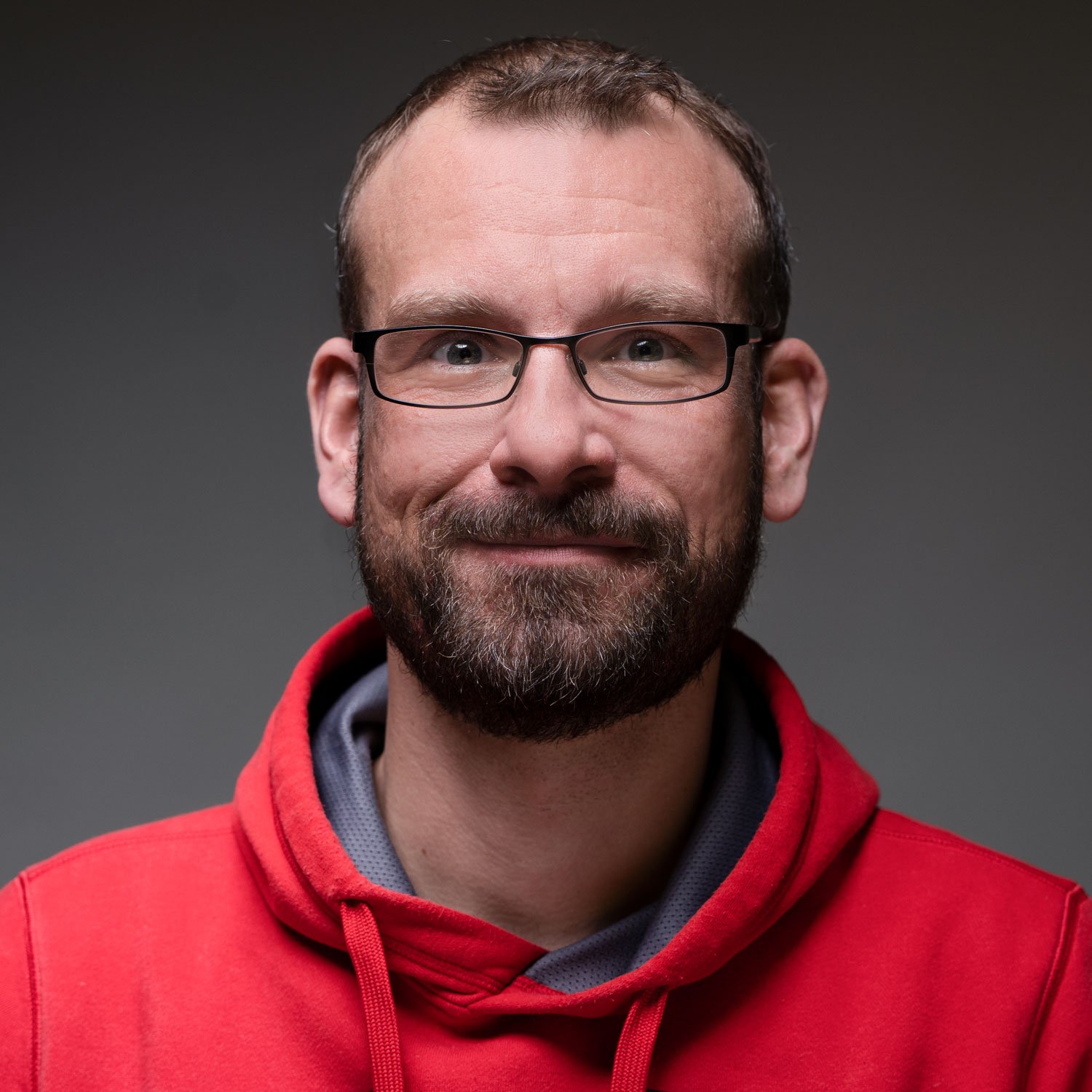 Originally published on June 06, 2018 by Sascha Neumeier
Last updated on March 03, 2022 • 9 minute read
As recently announced in our blog article "Why You Should Manage your Fujitsu Server with iRMC", a native Fujtsu System Health Sensor is now available in PRTG. This allows you to query and monitor various iRMC status values.
Today we will show you what to set up in the iRMC configuration and what to consider when setting up and configuring the SNMP Fujitsu System Health Sensor. In addition, we provide you with further links and explanatory screenshots.
iSNMP stands for Simple Network Monitoring Protocol. Its usefulness in network administration comes from the fact that it allows information to be collected about network-connected devices in a standardized way across a large variety of hardware and software types. SNMP is a protocol for management information transfer in networks, for use in LANs especially, depending on the chosen version. Read more ...
iRMC – Settings in Fujitsu Server View
Assuming that you have already set up your iRMC environment according to the manufacturer's specifications, the following settings should be checked and - if necessary in your specific use case - adjusted.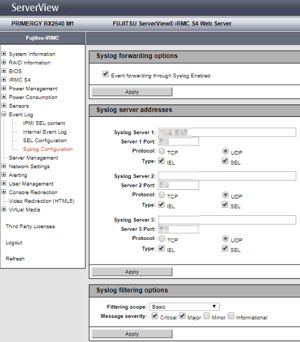 Event Log – Syslog configuration
If available in your IT environment, enter your Syslog server and port here.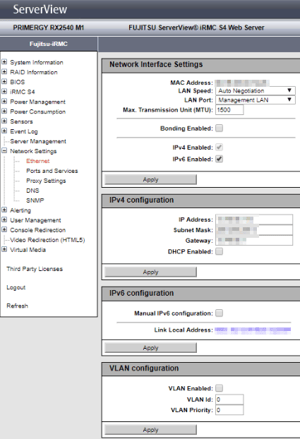 Network Settings – Ethernet
You have already configured this during iRMC setup. You can check the network settings again here.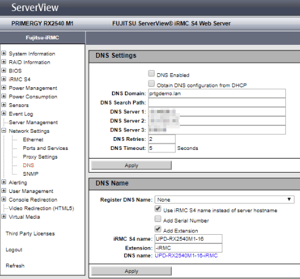 Network Settings – DNS
You have certainly already set this up in the iRMC configuration - check your settings again here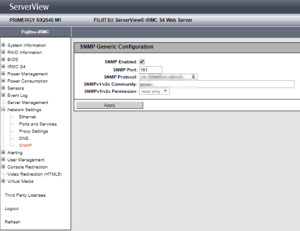 Network Settings – SNMP
At this point check if SNMP is activated and which protocol and port is used for SNMP communication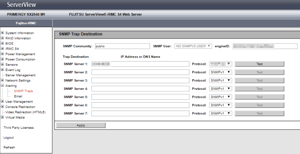 Alerting – SNMP Traps
If you want to query ServerView information using SNMP traps, you can define the server for the trap destinations here. Don't forget to store the correct communication protocol (SNMP V1 vs. V2C vs. V3)
The SNMP Fujitsu System Health Sensor
Now that the preparations have been made, we can set up the corresponding sensor in PRTG in the next step. Let us start with some information about the purpose and the possibilities of the Fujitsu System Health Sensor.
Initially, the sensor was designed to monitor the status of Fujitsu PRIMERGY devices. The sensor accesses the Integrated Remote Management Console (iRMC) via the Simple Network Management Protocol (SNMP). Since not only Fujitsu PRIMERGY devices from the manufacturer are equipped with the iRMC, this sensor can also be used to monitor some PRIMEQUEST servers, ETERNUS storage systems or rack-mounted CELSIUS workstations. The best way is to try this out if you want to monitor a PRIMEQUEST, ETERNUS or CELSIUS device.
Which Parameters Can Be Monitored by the Sensor?
Overall status
CPU status, speed, and core count
Fan status and speed
Memory module status
Number of correctable and uncorrectable errors of the memory module
Battery status
Status and condition of the power supply
Power limit status and power consumption
Temperatures for various components of the server, for example, memory, power supply, CPU, system, and storage.
These channels are created at run-time, depending on the available measurement components. Which channels the sensor actually shows might depend on the monitored device and the sensor setup.
The sensor is set up in PRTG as usual. Simply place the sensor on the iRMC Interface Device. Depending on the device, the available information is automatically read out and displayed during setup.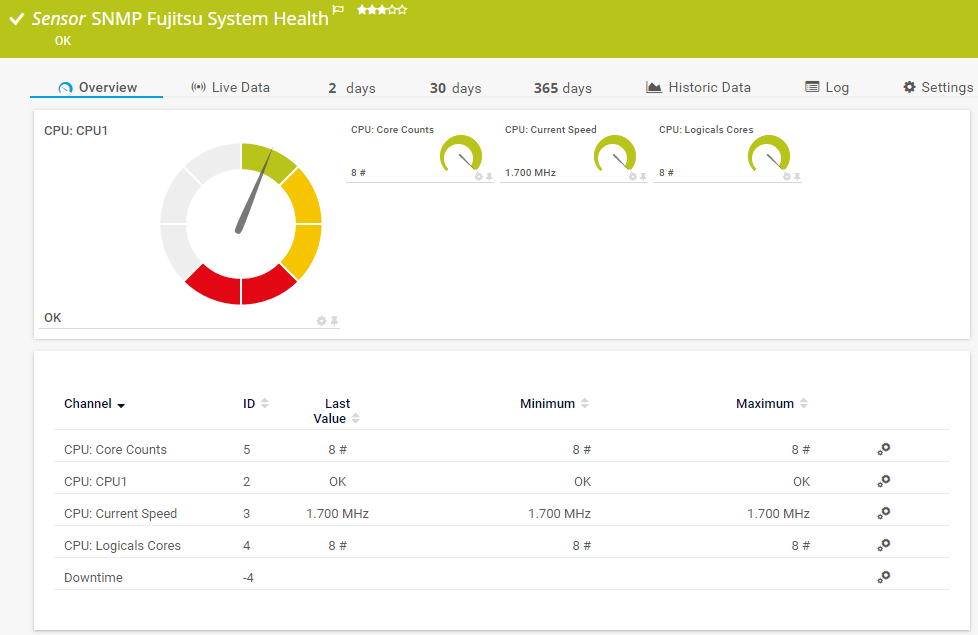 Further Information and Helpful Links
The Sensor in the Field
Now we are in the process of gaining as much experience as possible with the sensor and are looking forward to your use cases. Do you "just" monitor a single server or do you use the new sensor to monitor your entire Fujitsu server park? Are you new to Fujitsu monitoring, or have you been using SNMP-MIBs in the past? Write to us about your experience in the comments; we are very happy to receive your feedback!
If you don't own a Fujitsu server and actually want to monitor completely different hardware: We also have (among many others) Dell or HP sensors in our portfolio!
And if you have a Fujitsu server, but no server monitoring at all, then take a look here. 😊