New versions of PRTG for Android and PRTG for iOS: 20.0.0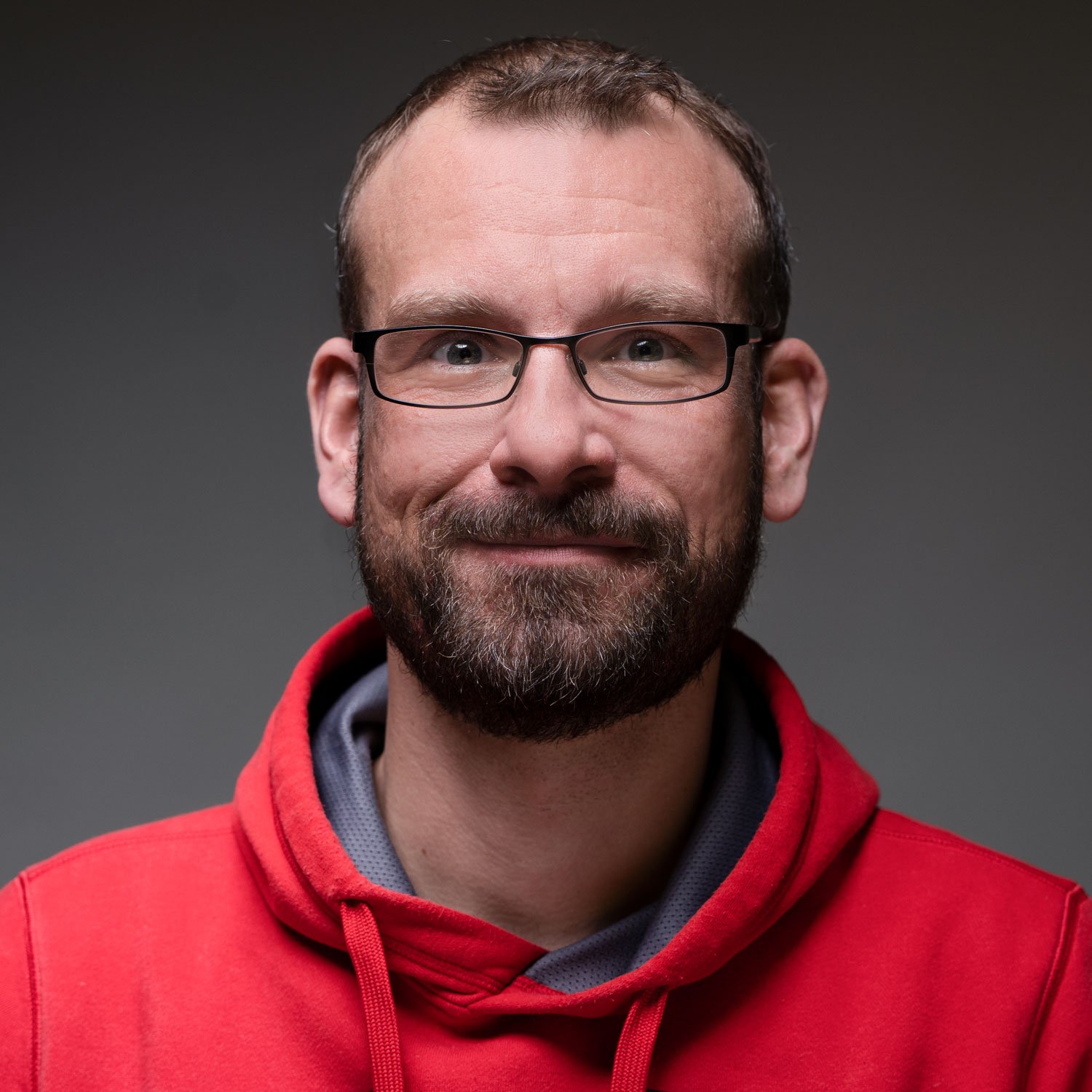 Originally published on April 02, 2020 by Sascha Neumeier
Last updated on March 03, 2022 • 5 minute read
A few days ago we published an update for our mobile apps and released version 20.0.0 of PRTG for Android and PRTG for iOS. We have decided to have a staged rollout, so not every device will immediately receive the new version.
What are the PRTG mobile apps for?
With PRTG for iOS or Android you can do nearly everything you can do in the PRTG web interface: For example, acknowledge alarms, pause and resume sensors, set priorities and favorites, scan your network status instantly, work with the ticket system, and edit object comments. You can also access reports, send them as PDFs via email or print them with AirPrint.
In addition, QR code scanning makes it easy to jump directly to a sensor or to add a user account to the app.
What's new in PRTG for iOS 20.0.0?
PRTG for iOS version 20.0.0 supports iOS 11 to iOS 13.
The keyboard now disappears when you tap out of the search bar.
Reports from PRTG 19.4.54 and later versions can be opened as usual again.
The send and cancel buttons from the share link menu are now visible again.
We added a validation message for scanned QR codes.
You can now select the share link option on iPads.
Scanning QR codes on iPads works as expected again.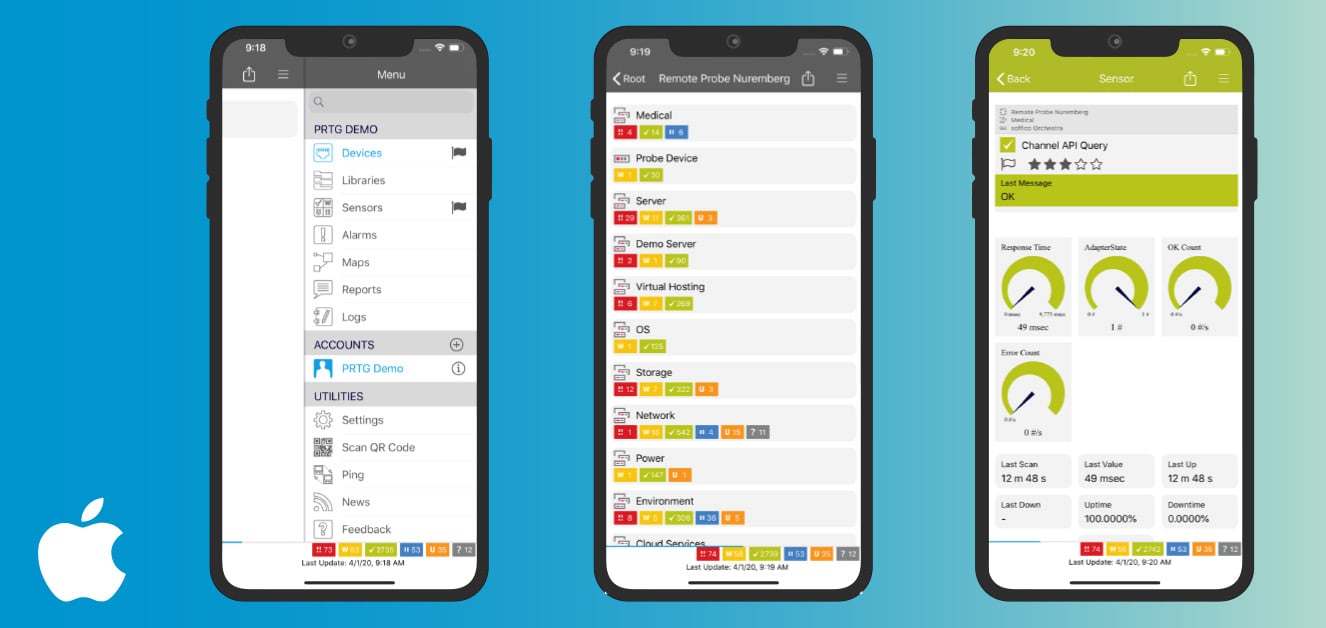 What's new in PRTG for Android 20.0.0?
PRTG for Android version 20.0.0 supports Android 6.0 to Android 10.
You can now navigate back from the News page and use links there as usual.
User accounts do not disappear from the main menu anymore.
PRTG for Android now requests the necessary permissions when you try to download a report.
We added a workaround for failed report downloads caused by permission restrictions in Android 10.
Filename encoding of downloaded reports works as expected again.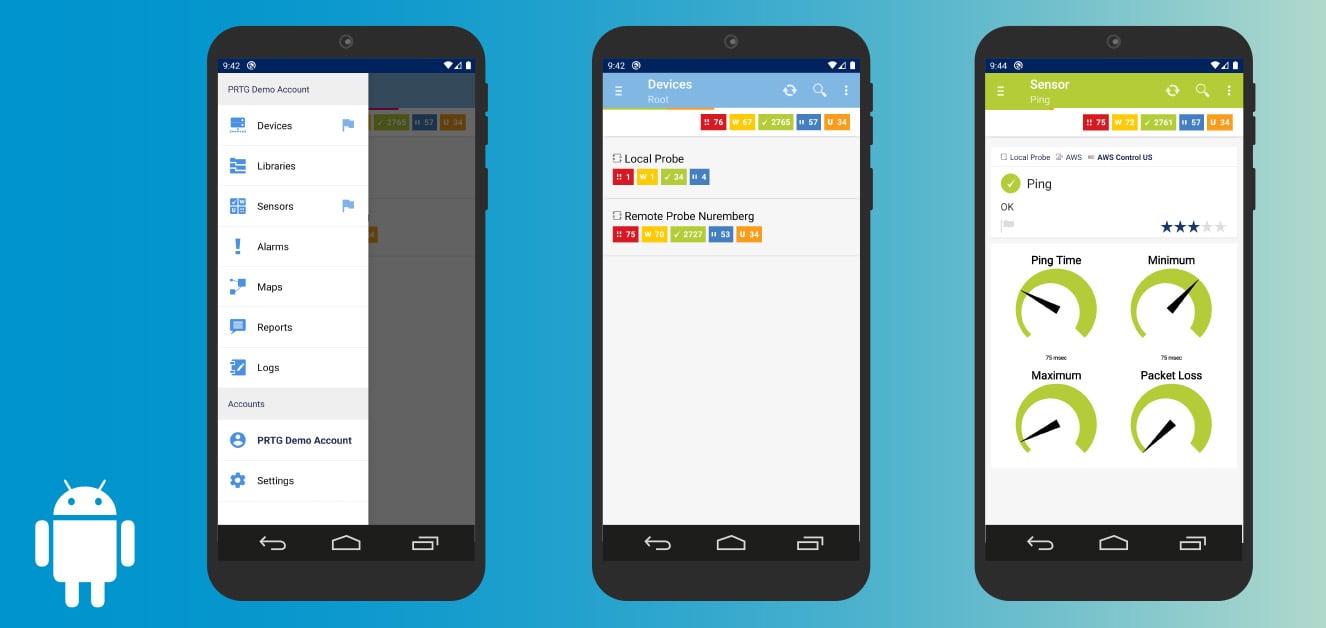 How to use the PRTG mobile apps with MDM solutions
If you centralize the management of mobile devices in your company, you might also want to distribute the monitoring apps PRTG for Android and PRTG for iOS via MDM (mobile device management). For this purpose, we provide the APK (Android application package) and the IPA file of our Android and iOS apps.
For all further details, including download files and instructions, read our knowledge base article "Can I use PRTG for Android and PRTG for iOS with MDM solutions?".
Send us your feedback!
Do you use the PRTG mobile apps? Maybe even as part of a mobile device management solution? What is your experience, do you have any requests or suggestions for us? Feel free to write us in the comments section below!