Monitor all aspects of a data center with PRTG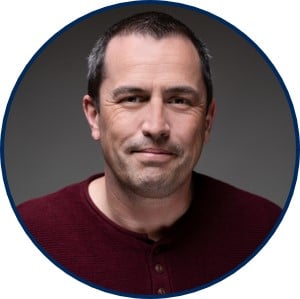 Originally published on March 29, 2021 by Michael Becker
Last updated on March 03, 2022 • 9 minute read
It doesn't matter whether it's in the cloud, a hybrid solution or on-premises: Ultimately, IT takes place on physical computers in a building - the data center.
In order to ensure excellent performance and trouble-free operation of a data center, it is essential to keep a constant eye on a whole range of different components, both in IT and in facilities, in order to detect flaws as early as possible and thus avoid problems, damage and breakdowns:
IT network and infrastructure
Hardware (such as server racks, computers, storage systems, switches and routers) must be monitored, as well as data traffic and applications.
Facilities
Power and cooling are essential to data center operations. Disturbances or even failures cause massive damage; continuous monitoring is essential.
Security
The data center is doubly at risk – on the IT level: DDos attacks, viruses, Trojans and similar threats – and on the physical level: fire, water and unauthorized intrusion.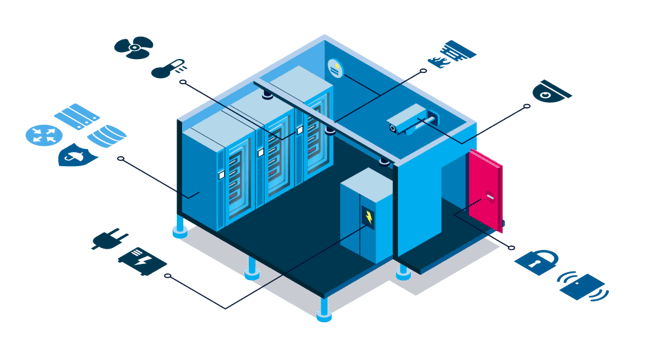 Different teams face different challenges
Besides the IT infrastructure, the facilities also play an important role in data center management. These are two more or less separate worlds that often pursue different approaches and are usually operated and maintained by several teams. While protocols such as NetFlow, FTP or WMI are used in the IT world, communication in the facilities is usually based on Modbus TCP or OPC UA. Only SNMP is used in both worlds, although this network protocol plays a much more important role in IT than in facilities.
This makes it difficult to get a comprehensive overview of the state of the entire data center that combines both views in one dashboard. After all, only a central overview ensures that irregularities, faults or failures can be detected, located and remedied as quickly as possible!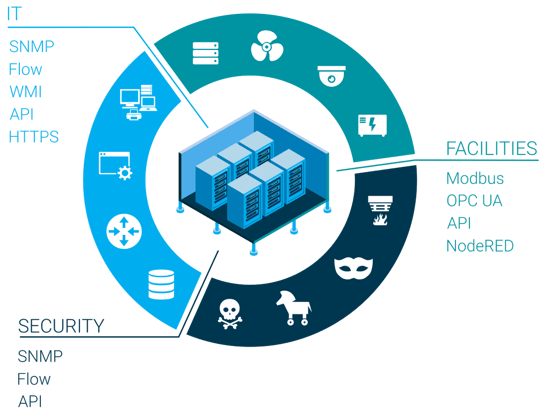 Monitoring of IT networks and infrastructures
PRTG is a classic IT monitoring solution that supports the monitoring the entire scope of IT environments. The software monitors the network and traffic via flow, sniffing or SNMP, as well as the complete infrastructure and security tools. Additionally, PRTG offers active security features such as detection of unusual activity, and provides complete monitoring functionality with every license:
Monitoring of all IT components with the help of sensors
Definition of individual thresholds and escalation paths for all sensors
Integrated database as a basis for alarms as well as for long-term analyses
Support for all common alerting methods such as email, SMS, SNMP traps, push notifications, etc.
Mobile Apps for iOS and Android
Flexible API for customization
Monitoring of facilities
PRTG offers comprehensive monitoring functionality and thus is a suitable basis for processing monitoring data for installations. Let's take a look at the three main options for data collection:
Query via SNMP or API
Many devices in facilities support SNMP or the possibility of queries via defined interfaces.
Direct data acquisition via Modbus TCP and OPC UA
By supporting these industrial technologies, PRTG offers the possibility to directly query numerous devices from the field of facilities and to integrate them into the central monitoring system in a simple and straightforward way.
Integration with communication solutions
Due to clearly defined interfaces, PRTG integrates seamlessly with gateways such as the industrial routers from INSYS icom or Advantech, as well as with communication servers such as Orchestra from soffico. These solutions can receive data in almost any industrial format and convert it into IT formats, which PRTG receives and processes.
Furthermore, with the PRTG Node-RED Connector, offered free of charge, Paessler offers an additional option to read and process data from facilities via other protocols such as BACnet.
Monitoring of data center security
Data center security is another key aspect for IT that must be given special attention. In addition to the IT network and infrastructure risks already mentioned, the requirements for the premises and environmental aspects must also be considered. Overheating or even cable fires can cause massive damage and leaks in air conditioning systems release water that can cause short circuits or damage IT equipment are just two examples. Unauthorized intrusion is also a constant risk. Extensive sensor technology is required here to detect humidity, room temperature, hot spots, smoke and other environmental influences. CCTV systems can also be used to watch for smoke, fire or water intrusion, but are mainly for monitoring rooms for unauthorized entry.
PRTG is able to monitor all these sensors and systems 24/7 with regard to availability and function and at the same time collect the surveillance data, display it in clearly arranged dashboards and integrate it into a central alarm system – including role- and rights-based access control systems and automated escalation scenarios.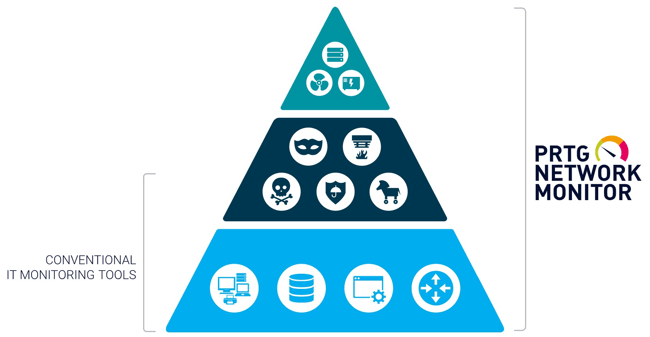 PRTG: One solution to monitor all aspects of a data center
IT infrastructures, facilities or security systems: PRTG is able to comprehensively monitor all components of a data center and can summarize details in processes to map them for the responsible employees or teams. In this way, the software creates an overview and provides the necessary detailed information when required. PRTG sends alarms on all common channels when needed, but at the same time reduces unwanted "alarm noise" by sending only relevant alarms. In the long run, PRTG helps to optimize the data center on all levels and, in addition, in accordance with our corporate mission statement, to permanently reduce human resource consumption as well as operating costs.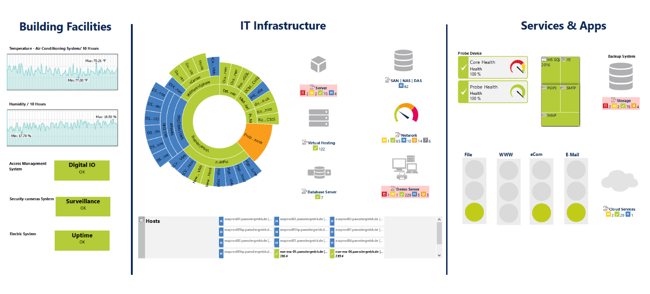 Overview of a data center in a PRTG map
What sensors do you use for data center monitoring? Are there any sensors you would like to use that PRTG does not have?
We are looking forward to reading your comments!