Get certified by Paessler. Become a monitoring expert!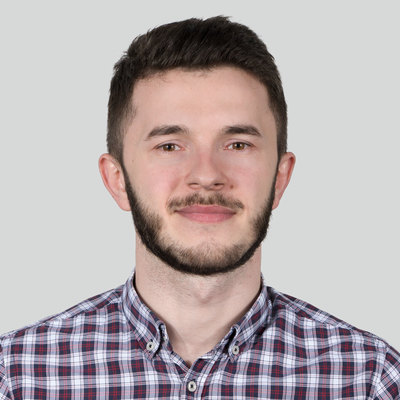 Originally published on January 10, 2022 by Jasmin Kahriman
Last updated on August 02, 2023 • 7 minute read
Most of my articles are about monitoring different target devices using Paessler PRTG. I also write some cool stuff on my blog TechWithJasmin.com. Today, I have a different topic for you. It is about training and certification. We at Paessler provide our partners and customers with hands-on training on how to install, manage and troubleshoot PRTG. Starting this year, we introduced new training courses grouped in different levels. Regardless of what experience you have, there is always something for you.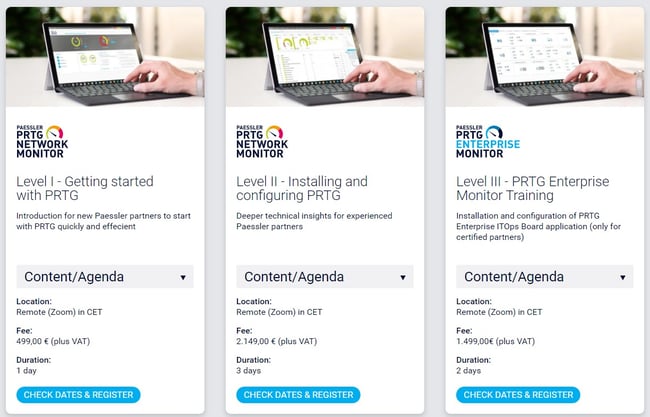 In order to get a great study experience, we recommend joining one of the coming PRTG technical training sessions provided by Paessler (for partners) or training provided by our Paessler Training Partners (for customers). We also offer a free guide to getting started on our website.
To prove that you have PRTG skills, you can take an online exam and get certified by Paessler. We offer two exams right now: Sales Professional and Monitoring Expert. There is also another hands-on exam intended for partners who are implementing PRTG on customers' sites.
Certified Paessler Sales Professionals will know the key features of PRTG and can recommend the correct software to their customers. They can help customers to identify the license they need and will know how to order the license. They can also assist customers with maintenance renewals and license upgrades. Certified Paessler Sales Professionals have also demonstrated technical knowledge of PRTG's main features. To certify yourself, you have to pass an online test, which costs € 50. You have 60 minutes to answer 40 questions.
Certified Paessler Monitoring Experts will have a deep technical knowledge of PRTG. They can demonstrate PRTG to their customers and can consult with customers looking for the proper monitoring solution. Certified Paessler Monitoring Experts will be able to discuss architecture options and provide first-level support to their customers. They can also help customers to determine the best license based on their requirements. To certify yourself, you have to pass an online test, which costs € 150. You have 90 minutes to answer 55 questions.
The passing mark for both tests is 70%.
Here are some of the questions you might see in the exam. Let's the challenge begin.
1. What is the difference between WMI and SNMP? (Choose two)
With SNMP any network device can be monitored, whereas WMI is only applicable on Windows-based operating systems
SNMP is more generic and easier to implement
WMI is extremely powerful with regard to Linux Systems
WMI is extremely powerful with regard to MAC systems
2. What is the primary benefit of SNMPv2c over SNMPv1?
Data encryption
64-bit counters
User authentication
Shorter scanning intervals
Larger data buffer
3. What components run on the same server in a default PRTG installation?
PRTG core server only
PRTG core server and local probe only
PRTG core server, local probe, and remote probe
PRTG core server, local probe, and SQL probe
4. How can you show multiple maps in a single dashboard?
By creating the different Maps and clicking through them in the map overview
By creating the maps and linking the different maps to certain objects of the dashboard using the External Link option in the object's properties section
PRTG does not support interactive mapping
By linking various maps, using the IFRAME code from the other maps
5. You are monitoring an Exchange Server and you would like to be notified when the Exchange Service stops, even if it has restarted. How would you do this with PRTG?
Use the Execute Program Action in the notification template
Use a Threshold Trigger
Use a Change Trigger on the WMI Service sensor that monitors your Exchange Service
This cannot be done with PRTG
Answers: 1. a b | 2. b | 3. b | 4. d | 5. c
And? Did you pass it? Do you feel ready to take the exam? Maybe at no cost? We offer 10 free exam vouchers for Paessler Monitoring Expert. This offer is first come, first served: The first 10 who come, get the free vouchers. Fill out the form here.


Please also take a look at these articles: