6 reasons why you should book PRTG training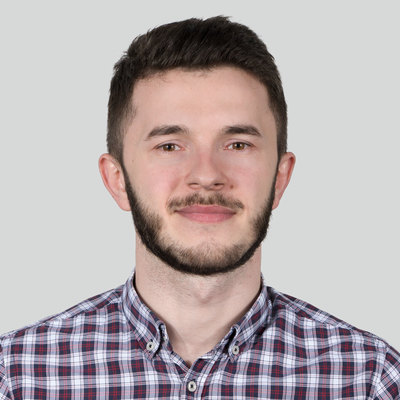 Originally published on June 30, 2023 by Jasmin Kahriman
Last updated on June 30, 2023 • 12 minute read
Have you heard about the various training courses we offer at Paessler AG? They are PRTG-centric and designed to help you enter the world of network monitoring, even if you have no prior knowledge or experience. We take you on a journey from beginner to monitoring expert, addressing the needs of both SMBs and enterprises.
Starting this year, we have expanded our training offerings for customers on a global scale. In this article, I will outline 6 compelling reasons why you should consider joining the PRTG training offered by Paessler AG.
Developed and trained by Paessler engineers
Our training programs are developed by Paessler engineers who actively work on implementations and engage with customers and partners on a regular basis. This close interaction allows us to fully understand your pain points and challenges, and our training is specifically designed to address and cover these areas.
We are proud to have a team of ten trainers working globally to ensure that our training programs reach customers everywhere.
Scheduled or on-demand training
We have over 25 scheduled training events this year. These events have fixed dates and are conducted in English, German, and Spanish (U.S. market only). However, if none of the scheduled dates work for you, we will be happy to accommodate you at the next available training session or organize a training session based on your specific needs.
All of our training courses are delivered online for convenient access. However, if required, we can also arrange on-site training at our headquarters or travel to your preferred location. Flexibility is important to us, and we strive to accommodate your needs to provide the best training experience possible.
After completing the training, we will provide you with a certificate of completion.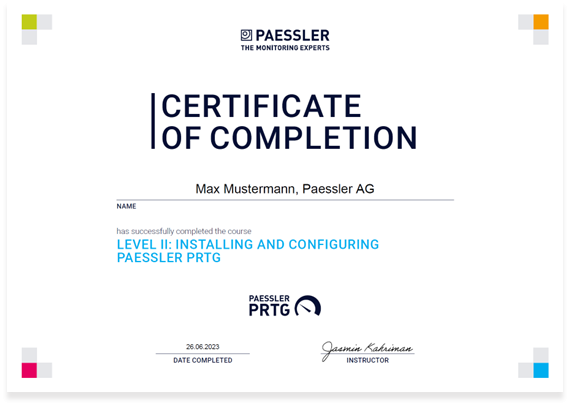 Don't miss our upcoming training sessions in EMEA, US, and APAC! We have ten sessions left on the schedule. Secure your spot now by registering through this link.
From beginner to monitoring expert
We are committed to helping you become a network monitoring expert, even if you have no prior knowledge or skills in the field.
Our training program is structured into three levels. You start with Level I, which covers the basics and provides a solid foundation for using Paessler PRTG. From there you progress to Level II, where you learn how to install and configure PRTG. Finally, you will progress to Level III, where you will gain expertise in PRTG Enterprise Monitor (ITOps Board).

Some people just want to gain an understanding of network monitoring and how to effectively manage PRTG from a user perspective, focusing on working with sensors, libraries, or maps. On the other hand, we have had participants who are interested in exploring advanced areas such as custom sensors (SNMP, scripting, etc.) in both SMB and enterprise networks. Regardless of your specific goals, we are here to help you achieve them.
As our product evolves and new features are introduced, we ensure that our training keeps pace.
Hands-on included
Our training methodology goes beyond relying solely on slide decks. While we provide some essential information through slides and demonstrations, the majority of our training is focused on hands-on labs. We believe in the importance of practical experience.
To facilitate this hands-on approach, we use a cloud-based lab environment. Each student is assigned one or more virtual machines, depending on the training level. Throughout the course, we guide you through installing core servers, remote probes, setting up clusters, exploring custom sensors, creating maps, generating reports, using ITOps Board, and more.
By emphasizing hands-on labs, our goal is to provide you with tangible knowledge that can be applied directly to your production environment. We want to ensure that you gain the necessary skills and confidence to effectively use Paessler PRTG in real-world scenarios.
Exam voucher included
When you register for our Level II training "Installing and Configuring Paessler PRTG", we offer you a free exam voucher to validate your knowledge and skills. In the first quarter of 2024, we plan to introduce two new exams for "Level I: Getting started with Paessler PRTG" and "Level III: PRTG Enterprise Monitor".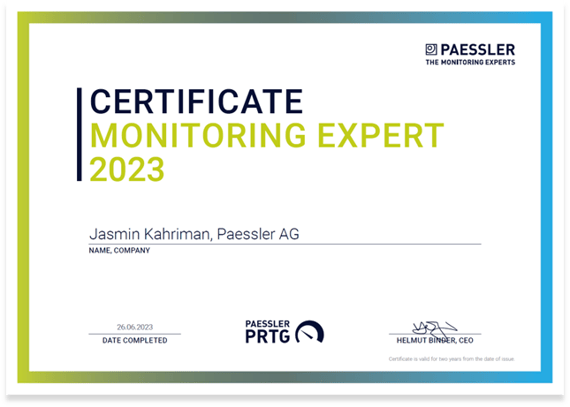 If you don't pass the exam on your first attempt, don't worry. We will give you a second chance at no additional cost. By offering exam vouchers and a second chance, we want to motivate and empower you to succeed in the training and validate your expertise in using Paessler PRTG effectively.
Would you like to see some sample questions before taking the exam?
👉 Take the Paessler Certified Monitoring Expert test (free)
Training material included
Upon completion of the training, we will provide you with comprehensive training materials that will allow you to further explore and experiment with PRTG. These materials include slide decks, hands-on labs, tools, and guides to help you set up a test environment if you want to practice on your own.
The hands-on labs are particularly valuable as they provide practical scenarios that you can replicate and apply to your own use cases. For example, if you need to configure SNMP custom sensors using MIB and OID, you can refer to the hands-on labs.
Don't miss our upcoming training sessions in EMEA, US, and APAC! Only ten seats left. Register now using this link.
P.S. In addition, we have established strong partnerships with over 20 training partners in various regions, further expanding our training network and reach. Through these partnerships, we are able to provide training in languages that we, as a provider, may not directly cover. This ensures that students have access to training in their preferred language, enhancing their learning experience and facilitating a better understanding of the content.