Seven Devices between €69 and €500 for Monitoring Environmental Parameters with PRTG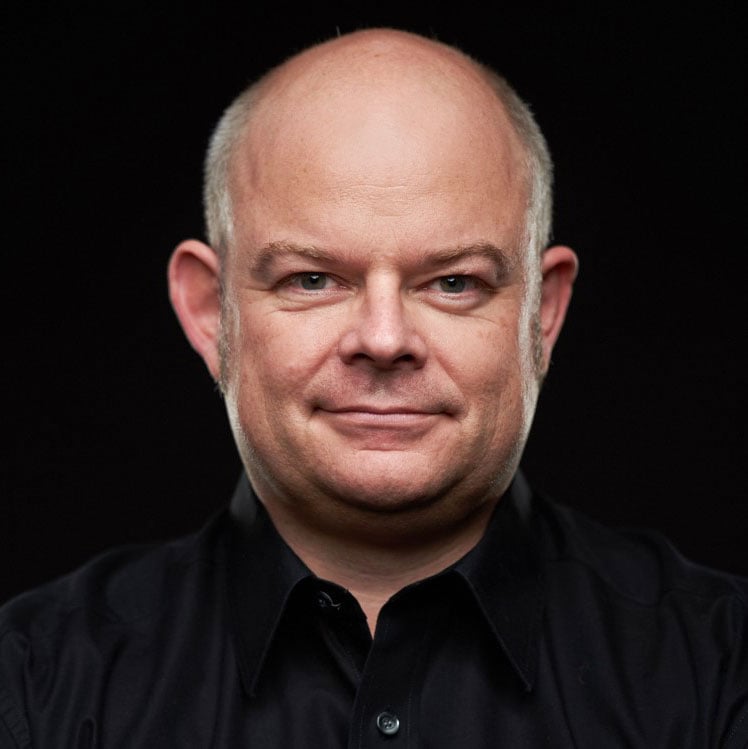 Originally published on March 27, 2019 by Dirk Paessler
Last updated on March 03, 2022 • 16 minute read
As the founder of "The network monitoring company", Paessler AG, it was quite natural for me to not only monitor our home network, but also various environmental metrics in our family home. We moved into our new home a year and a half ago, and having temperature data series has been quite helpful to do the fine tuning and bug-fixing of the heating and ventilation systems.
I am not as much of a maker type as my colleagues who built their own smart thermometers for our office building. I like to use prefabricated devices. So I ordered 6 different out-of-the-box devices (mostly from Amazon) to monitor temperature, humidity, and so on in our house. I connected all these sensors to my PRTG installation, which also monitors the heating system and solar panels via ModbusTCP, as well as many other systems in the house.
Here is an overview of the sensor devices I am using:
Let's look at all of them in detail.
Netatmo Weather Station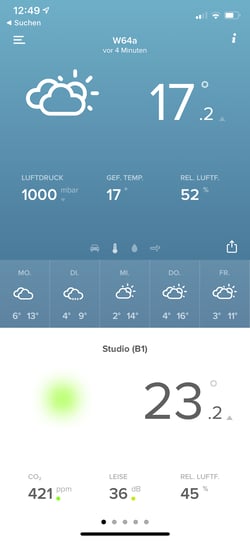 Although the Netatmo devices are smart room thermometers targeted at consumers, they shouldn't be underestimated or regarded as toys. They are a popular consumer product on Amazon and are likely the best selling device in my lineup (e.g. they have 70.000 app downloads per month).
Setup is quick and easy with their smartphone app and they run quite reliably. One outdoor sensor is included and I can buy additional room sensors as well as a rain and wind sensor (which sometimes doesn't seem to work properly in direct sunlight) for €69 and €99. While the base station is USB powered, the room sensors and outdoor sensors all run on AAA batteries, so every once in a while I need to replace the batteries (every few months).
What sets the Netatmos apart from the others is that they can measure temperature, humidity and CO2 at two locations inside and outside for just €169 out-of-the-box, and they can easily be connected to smart home applications like Alexa and IFTTT.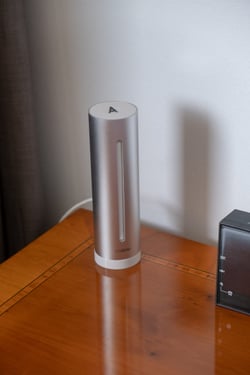 The connection to PRTG is also pretty easy: The download of a custom sensor (.exe file) is required for my PRTG installation to get the data from my Netatmo device (for more information, see a blog article on the paessler blog, an article on medium, and the download page).
In less than 5 minutes I can get all data from my Netatmo into PRTG.
I am using several Netatmo stations to monitor several rooms in our house including the room where our piano is located, which requires special attention to the humidity.
Summary: Reliable consumer stuff, easy to set up, versatile, price/performance ratio is hard to beat.
---
Sens'it (by Sigfox)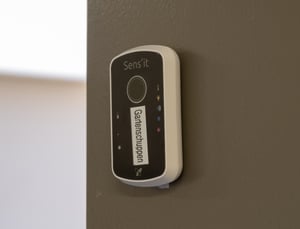 The new kid on the block: The Sens'it uses the currently-being-built ultra-low-power Sigfox IoT data network, which means that you can put it anywhere regardless of Wifi and power outlet.
Well, anywhere as long as it can successfully send its data to the Sigfox antennas (this works well outdoors, but it didn't work in my basement and in some rooms). The device includes several sensors (I am monitoring my garage door with another Sens'it) including a thermometer and humidity sensor.
To measure temperature, I have placed one Sens'it in our garden shed and one in my camper van, "Indie" (which, by the way, happens to have its own Instagram page and is usually parked in front of the house).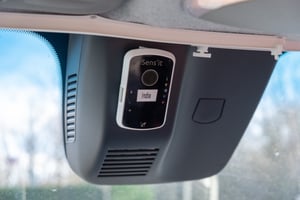 Because the Sigfox network works all over Europe, the Indie sensor is still able to send temperature data even if I am hundreds of kilometers away from home. The battery is expected to work for 3 months without recharging, and with a USB cable it will run as long as the van has power.
Summary: Good for monitoring things outdoor and in-motion, very cost-effective, minimum measurement interval is 10 minutes and needs a good placement for the signal to go through.
---
Querx PT 100 (by egnite)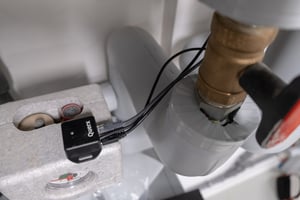 The Querx PT 100 is an Ethernet-based temperature sensor by German company egnite GmbH.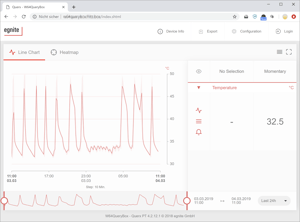 The actual sensor is connected with a cable to the small network box (it is the smallest box in this comparison). It has a web interface with internal data recording and offers SNMP, Modbus, syslog, email and http push.
Using an SNMP Custom sensor in PRTG I pull the temperature of the cable-connected sensor with this OID: 1.3.6.1.4.1.3444.1.14.1.2.1.5.1
Summary: Simple and effective, good value for €200 if you only need temperature measurements.
---
HWg-STE (by HWgroup)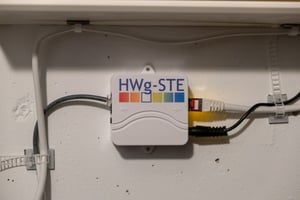 The HWg-STE by HWgroup (located in Czech Republic) came with one cable-connected sensor (I could buy and connect an optional second one, too). Similar to the Querx box, it has a web interface, but only offers email and SNMP.
I am using the OID 1.3.6.1.4.1.21796.4.1.3.1.5.1 to pull the current temperature from this device.
Summary: Good value for €170 if you only need temperature measurements.
---
WebSensor T7611 (by Comet)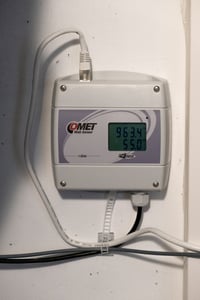 The most expensive device I am using is the Web Sensor T7611 for €500, from the Czech Republic vendor, Comet System.
The box and sensor feel very durable, and the vendor claims it has IP30 protection and could be used outdoors when shielded from rain. There is even an LCD display that displays the current measurements.
The cable-based sensor not only measures temperatures but also humidity and atmospheric pressure, which in part explains the higher price.
Data can be accessed via a web interface, SNMP, ModbusTCP, HTTP push, email and syslog. With a Custom SNMP sensor I am monitoring the following three OIDs:
Temperature: 1.3.6.1.4.1.22626.1.2.3.1.0
Relative humidity: 1.3.6.1.4.1.22626.1.2.3.2.0
Atmospheric pressure: 1.3.6.1.4.1.22626.1.2.3.4.0

Summary: Expensive but durable, suitable for (covered) outdoor use.
---
Multisensor LAN (by Kentix)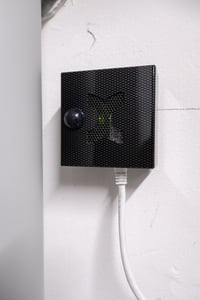 The Multisensor-LAN from German company Kentix is not only a measurement device for temperature, humidity, motion and carbon-monoxide (it can work as fire detector), it also has a built-in alarm buzzer.
The integrated web server allows all necessary settings to be made directly on the device via the web browser.
I am using these OIDs to pull the data via SNMP:
Temperature: 1.3.6.1.4.1.37954.2.1.1.1.0
Humidity: 1.3.6.1.4.1.37954.2.1.2.1.0
Motion: 1.3.6.1.4.1.37954.2.1.5.1.0
Summary: Expensive but a good and professional option to secure and monitor a data room/rack or small datacenter.
---
Alpha Innotec Heat pump
My final temperature measurement system is the heatpump of our house. I have written about this here.
My Recommendations
I personally like the easy-to-use Netatmo Weather Station; you can't get this many metrics and two sensor locations for €169 anywhere else (and without injuring yourself with a soldering gun). It's a great choice for an office, and maybe even for a server rack if you are on a budget. However, it requires a cloud connection to deliver measurements.
If you need a professional device to monitor and secure equipment, a data rack or a room, the Kentix box seems to be a great choice (if you can and want to spend €500).
The Querx and HWg-STE are decent solutions if all you need is a temperature sensor.
For outdoor measurements the Websensor, the Sens'it and the Netatmo are good choices with each offering unique features.
Most of the vendors also offer other sensor boxes, too.
iNote: I looked at all these devices mainly from a "how can I use this with PRTG" perspective. Each device has additional functionality (like threshold alarms, buzzer, etc.) that distinguish them and also – in part – justify the price differences. But I did not look into these properties for the scope of this blog post.
How does this look like in PRTG?
Here is a graph of all 17 temperature sensors: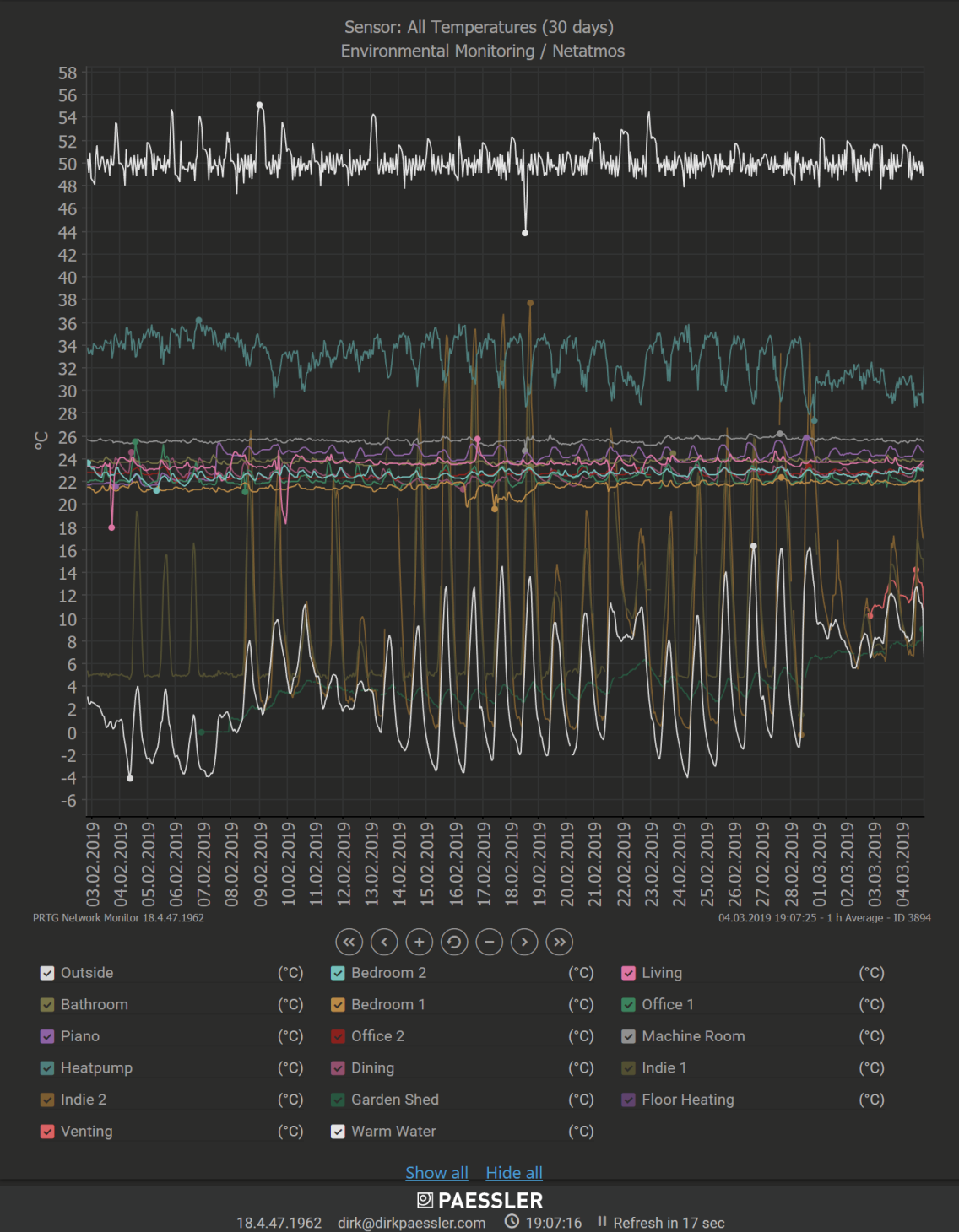 All current readings:
And the weather in Fürth/Germany in the last 30 days: