PRTG Release 19.4.54 includes two brand-new sensors for disk and storage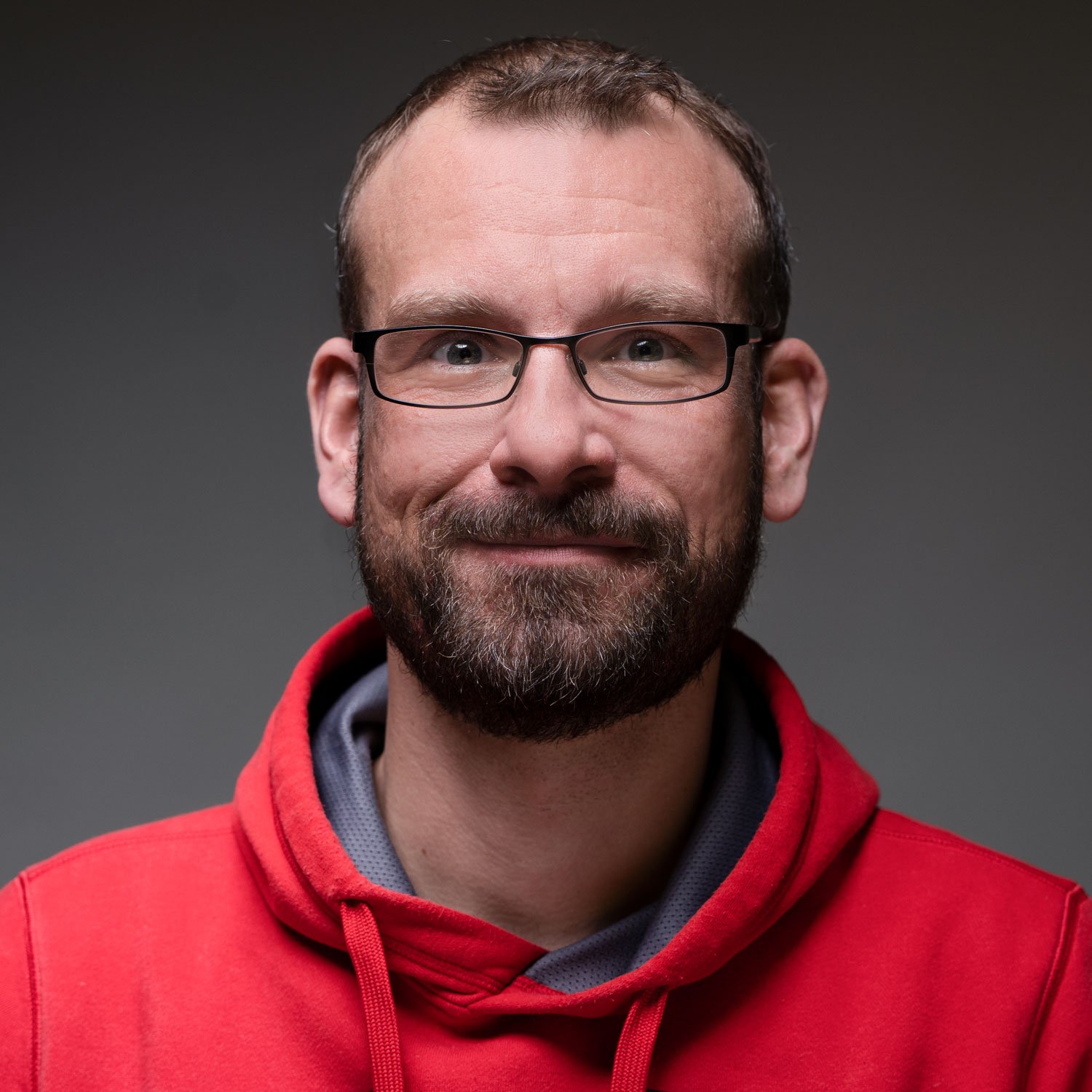 Originally published on December 02, 2019 by Sascha Neumeier
Last updated on March 03, 2022 • 8 minute read
A new PRTG release, new sensors and lots of new information for you. Take a look at version 19.4.54 together with me.
The biggest innovations of this version are certainly the two brand new sensor types, the WMI Disk Health Sensor and the WMI Storage Pool Sensor. The two sensor types help you to keep an eye on the health of the disks and storage pools on your Windows servers.
WMI Disk Health and WMI Storage Pool sensors
The new WMI Disk Health Sensor monitors virtual and physical disks of all kinds like SSD, SATA, or SAS, for example. It shows the health status of a disk, as well as detailed information about the operational status, such as degraded or predictive failure.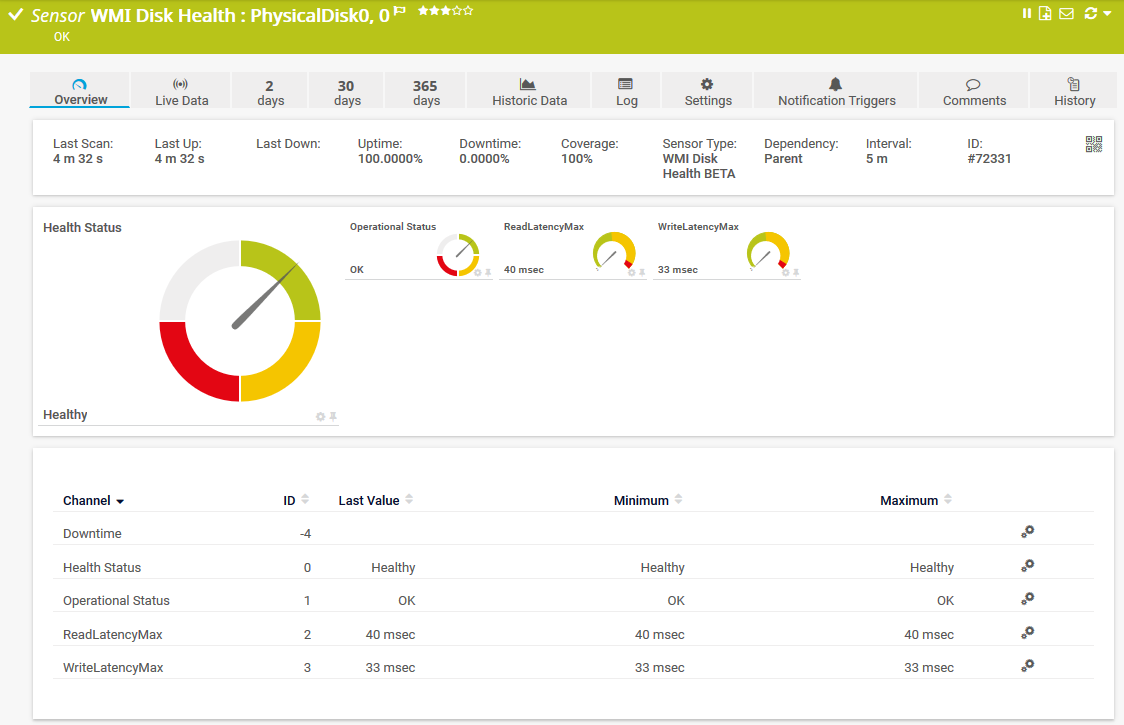 For example, if you run an HCI (hyper-converged infrastructure), then our new WMI Storage Pool Sensor is just right for you. Basically, a storage pool consists of multiple disks and provides RAID functionality without physical RAID hardware. This makes the sensor ideal for monitoring an HCI solution, for example from Microsoft.
The sensor shows operation and health status of the storage pool, as well as free space, and provides detailed information about the operational status such as "stressed" or "relocating."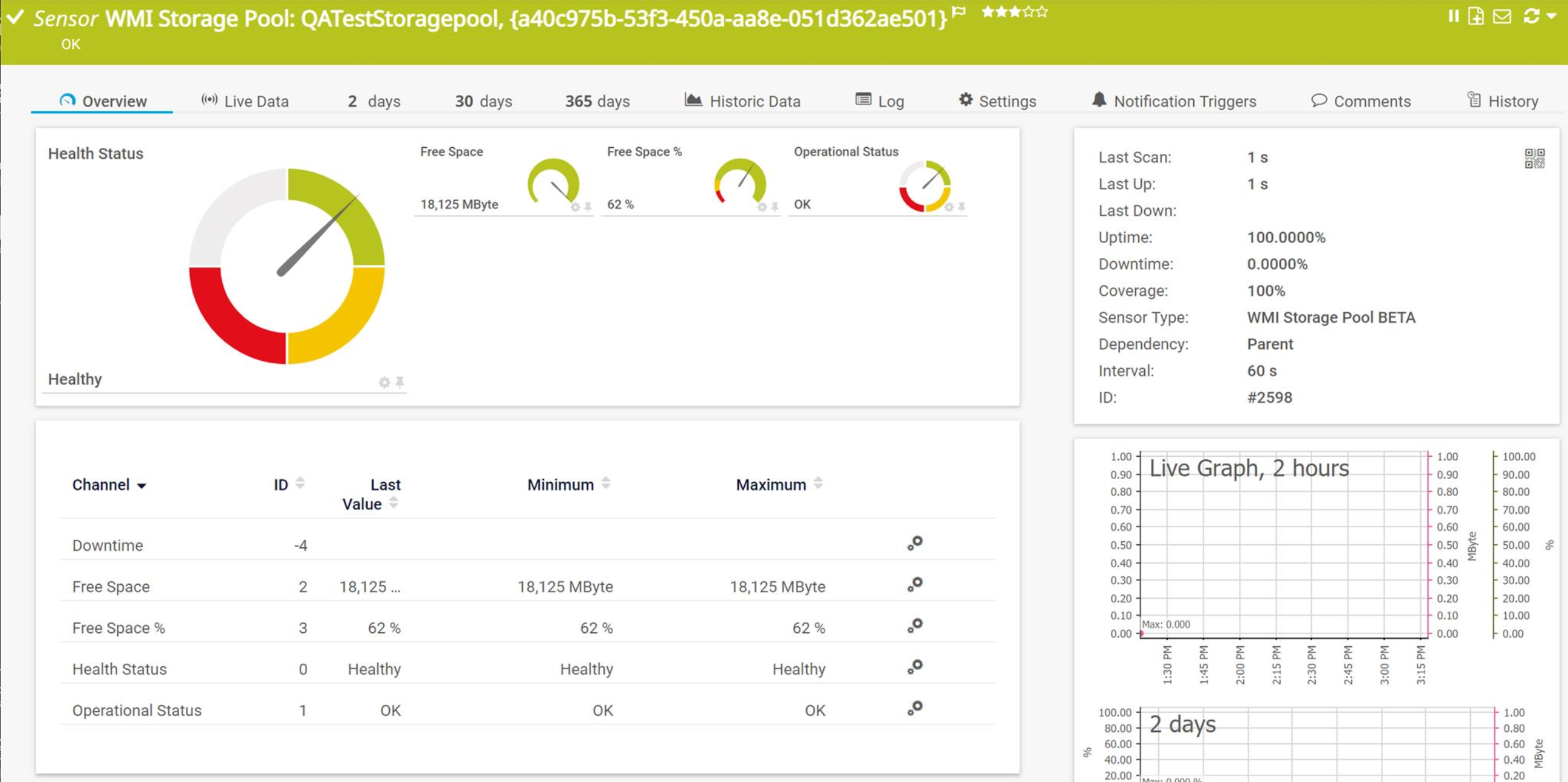 For both new sensors, we will soon publish dedicated articles in this blog which describe the technology, the benefits and show exactly what you can monitor with these sensors.
Where has the current version number gone?
PRTG does not show the current version number in HTTP headers anymore to improve security by not providing attackers with potentially relevant information. For the same reason, the page footer of the web interface now only shows the version number on pages that require a logged in user account.
Important security notice
iPlease Note: This version includes an important security update for your PRTG core server. Because of to the default Windows settings in the registry path used by PRTG, local users have read access and it is possible for them to read the PRTG passhash of the PRTG System Administrator user account. (CVSS scoring details: AV:L/AC:L/PR:L/UI:N/S:U/C:H/I:L/A:H/E:U/RL:O/RC:C)
We recommend that you update as soon as possible. If you run a version of PRTG Network Monitor older than release 19.4.54, we sent you an email to the address provided in your license information. There you will find all the details.
Special thanks go to Aleksandr Melkikh from Positive Technologies for pointing us in the right direction. (CVE-2019-19119)
---
Announcements for planned release 20.1.55
With the first PRTG release next year, there will be changes in the handling of Python scripts. Furthermore, TLS 1.2 will be the new default web server connection security protocol.
Python 3.4 EOL
PRTG version 20.1.55 that we will publish in January 2020 will include a new Python distribution because of the end-of-life announcement for Python 3.4. We are already informing you now about the change because your custom Python scripts must be compatible with Python 3.7 when you update to PRTG 20.1.55. You only need to consider the change if you are using the Python Script Advanced Sensor. PRTG will also create a ToDo ticket with further information for you in this case.
As of PRTG 20.1.55, the path that PRTG uses for Python is %programfiles%\PRTG Network Monitor\python3\ on 32-bit (x86) systems, and %programfiles(x86)%\PRTG Network Monitor\python3\ on 64-bit (x64) systems.
TLS 1.2 new default web server connection security protocol
Setting the default web server security as high as possible by default, without compromising compatibility with modern browsers and clients, should be a given these days. This is why we set TLS 1.2 as the new default web server connection security protocol.
The change may affect you if your PRTG users or third-party systems use outdated versions of browsers or PRTG mobile apps, the Enterprise Console, or old automation tools that interact with the PRTG API. You will receive a ToDo ticket in PRTG with further information.
---
All in all, since the release of PRTG version 19.4.53 at the end of October, we have included about 50 improvements to the software, sensors, language files, reports and the web interface. See the PRTG release notes page for details and all other changes in the latest versions.
Check out our public product roadmap
We also offer a public roadmap of PRTG on our website. There you can read at any time about which features we are currently working on and what kind of things we want to implement in PRTG in the future.
Your PRTG maintenance is up?
Has the maintenance on your PRTG installation expired and you can't install the latest release? We can fix that! Just switch to your PRTG welcome screen and hit the "Get Maintenance" button. If you prefer personal contact, send an email to sales@paessler.com and our fabulous Customer Service Team will be there for you.