PRTG For iOS is Out Now!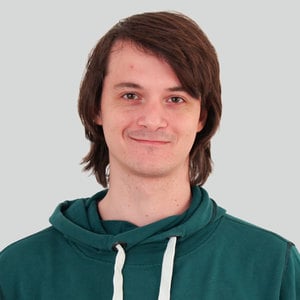 Originally published on February 20, 2014 by Gerald Schoch
Last updated on March 03, 2022 • 9 minute read
Finally, it's here: PRTG for iOS has arrived on iTunes! We didn't spare any efforts and started from scratch to develop a completely new mobile app for your iOS devices.
It replaces our former app, iPRTG. We are sure that PRTG for iOS is a milestone for your network monitoring experience: The new user interface, the comprehensible navigation, and many other improvements for the best possible ease of use; everything is there to let you check your monitoring easily while on the go. PRTG Network Monitor ensures a running IT infrastructure wherever you are!
PRTG for iOS comes as a free download on iTunes. You can use it on your iPhone, iPad, and iPod touch with iOS version 6 or later. The app connects to your PRTG server and gives you direct access to your monitoring data via the PRTG API. Just like in the former app iPRTG, you can view your device tree, look at sensor details and settings, show graphs of any sensors, review monitoring logs, and even access reports and PRTG Maps which are stored on your PRTG server.
Furthermore, you are not restricted to have only one PRTG server in your pocket but you can query different server/login combinations. Switch easily between different accounts to quickly view monitoring data of several installations and/or accounts with only one tap on your iOS device. This way, you can also reach favorite sensors of each connected installation easily.
Background Notifications
With iOS 7 it is now possible to run applications in the background. This is a great functionality especially for network monitoring with PRTG. Our app checks your PRTG server in the background and notifies you on your mobile device's notification center whenever there are new alarms. If your mobile device is in your pocket, PRTG for iOS attracts your attention with vibrations and sounds – you will never miss another issue in your network!
With one simple tap on the alarm, you can jump directly to the affected sensor and immediately see all the details of the alarm. For example you can check how long the alarm has already persisted, read the error message, and analyze which other devices are affected and more. Background notifications are a convenient way of being notified of alarms.
Interact With PRTG While Being Out of the Office
PRTG for iOS isn't read only, you can perform some of the actions you already know from PRTG's web interface like acknowledge alarms, pause and resume monitoring, set priorities and favorites, leave comments, and send emails with a direct link to a monitoring object. Instant network status scans are also possible.
Another really cool feature is the QR code scanner: Imagine that you are standing in your server room and want to know the system health of your Cisco UCS—now! You can just scan the QR code which you printed from PRTG's web interface and attached to your server chassis. PRTG for iOS will immediately show you the device and its monitoring data on your iPhone, iPad, or iPod touch!
PRTG for iOS Adapts to iPad or iPhone
Of course, our new app uses the size of the display of your iOS device in the best possible way. Depending on the available screen resolution, the app will show available items neatly arranged. Graphs on the iPhone will appear in landscape mode to give you all necessary information at a glance. On the iPad, the additional space is used to show the app's main menu at any time to provide you a quick and easy access to all functionalities, among other things.
Please find more details about PRTG for iOS on our website.
Download PRTG for iOS
Users of our previous iOS app "iPRTG" can update automatically to "PRTG for iOS". Network admins which are new to mobile monitoring can download it on iTunes for free:
Try PRTG for iOS with PRTG Network Monitor
In order to try PRTG for iOS, you need to have access to a PRTG server. If you are not one of the 200,000 PRTG users so far, get our free trial version of PRTG, connect with PRTG for iOS, and see how great network monitoring can work!
Discover More PRTG Mobile Apps
You don't use iOS, but like to keep an eye on your network while being on the move? Find out how you can benefit from PRTG for Android, or what our experimental PRTG app for Windows Phone has in store for you! Have you had a look at our PRTG Mobile Probe for Android? It helps you to see your network from the mobile perspective.