Holistic overview of your enterprise monitoring environment with Paessler PRTG MultiBoard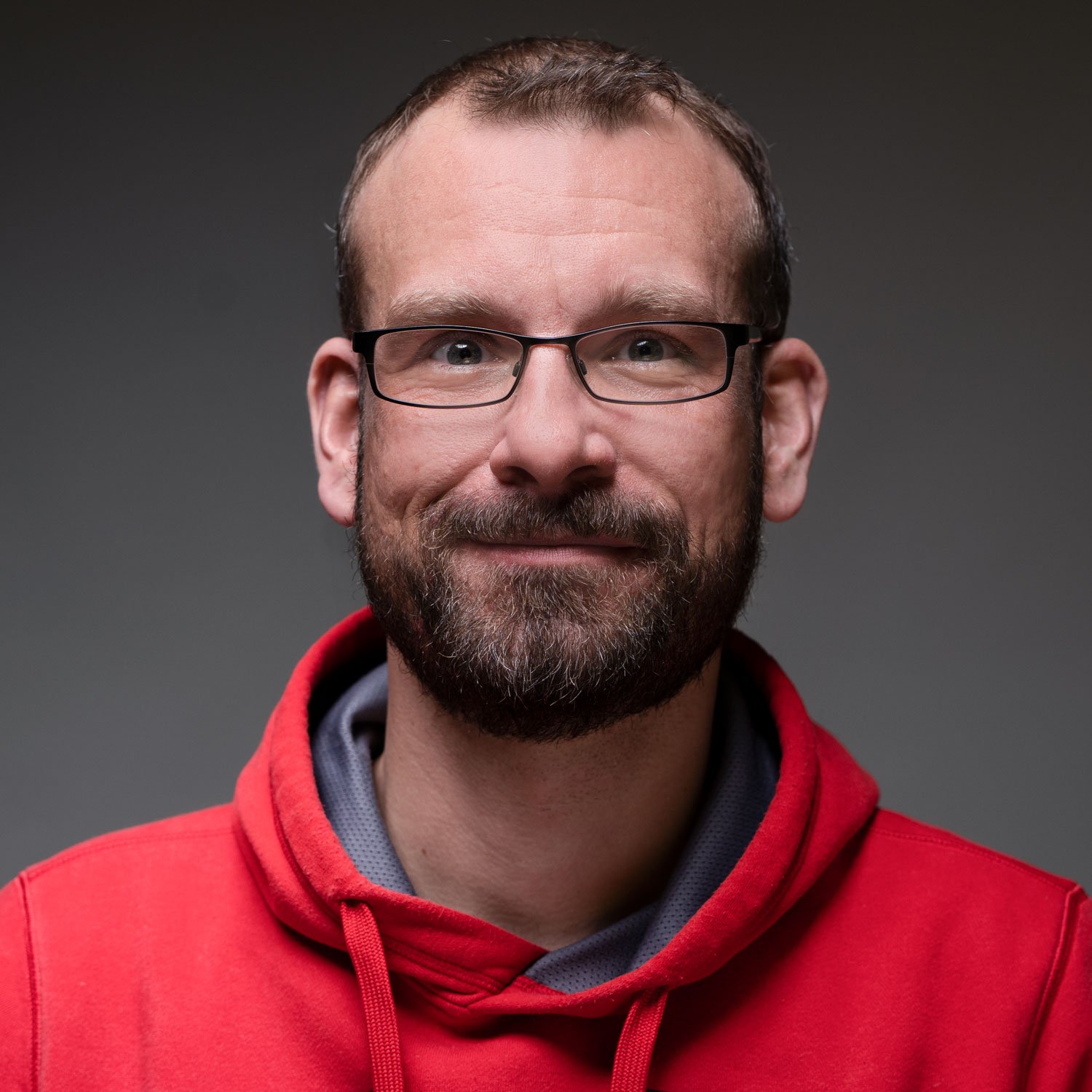 Originally published on June 21, 2023 by Sascha Neumeier
Last updated on June 21, 2023 • 8 minute read
This is probably the first time you've heard about Paessler PRTG MultiBoard and are wondering what it is. In that case, this article is the perfect resource for you. You'll learn what PRTG MultiBoard is, what requirements are necessary for you to use it, and what you can do with it. Curious? Let's go! 😃
Paessler PRTG MultiBoard at a glance
Paessler PRTG MultiBoard is a native application that provides you with an enterprise overview of multiple PRTG servers. While it is exclusively bundled with Paessler PRTG Enterprise Monitor, you can add unlimited PRTG Network Monitor or PRTG Hosted Monitor instances, allowing you to have your entire monitoring environment at your fingertips.
How PRTG MultiBoard works
PRTG MultiBoard is an alternative interface that you can use to connect to your PRTG Enterprise Monitor instance to configure your setup, view monitoring results, and keep an eye on your network. It is available for Windows environments, as well as for Linux and macOS!
Using the Multi Server functionality, you can view data of all your independent PRTG servers at a glance so that you can manage your monitoring centrally.
To give you a swift overview of the available features, let's have a deeper look into the details. 😶‍🌫️
PRTG MultiBoard Dashboard
The Dashboard allows you to configure an overview of your PRTG environment. We currently offer three widgets, List and Donut for a bird's-eye view of entire servers and Channel for a detailed view of a single sensor. Widgets can be configured with servers (e.g. putting all your servers in a donut widget to get a feel for the overall status of your system) or sets (e.g. using a list widget for a glimpse at the status of all system health sensors).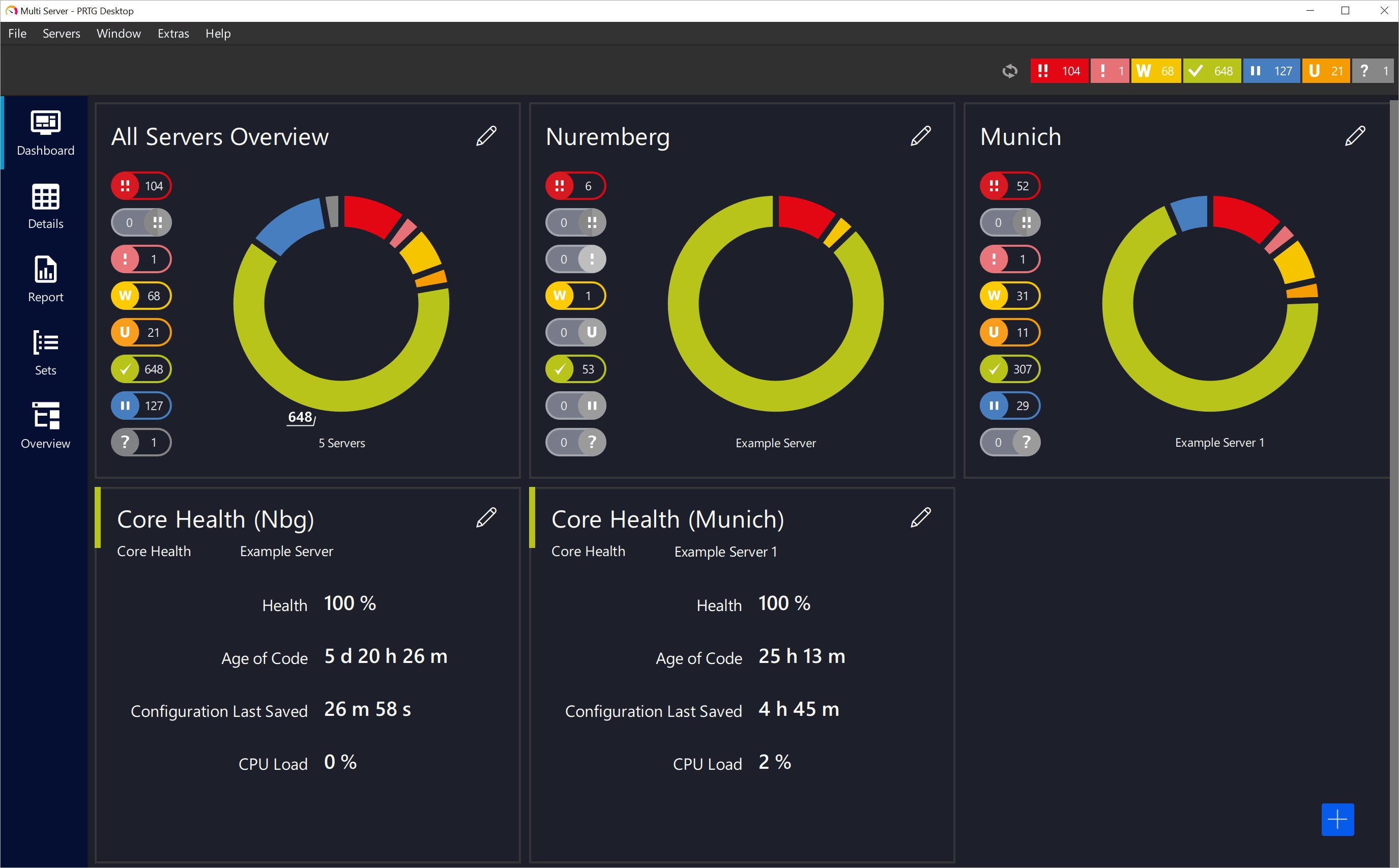 PRTG MultiBoard Overview
The Multi Server Overview gathers all device trees into one view. All of the options available in a single server tree are still available. In this view you can quickly navigate your entire PRTG world, inspect individual sensors or compare multiple sensors via the Compare Sensors tool, pop out graphs, and make changes to the monitoring objects.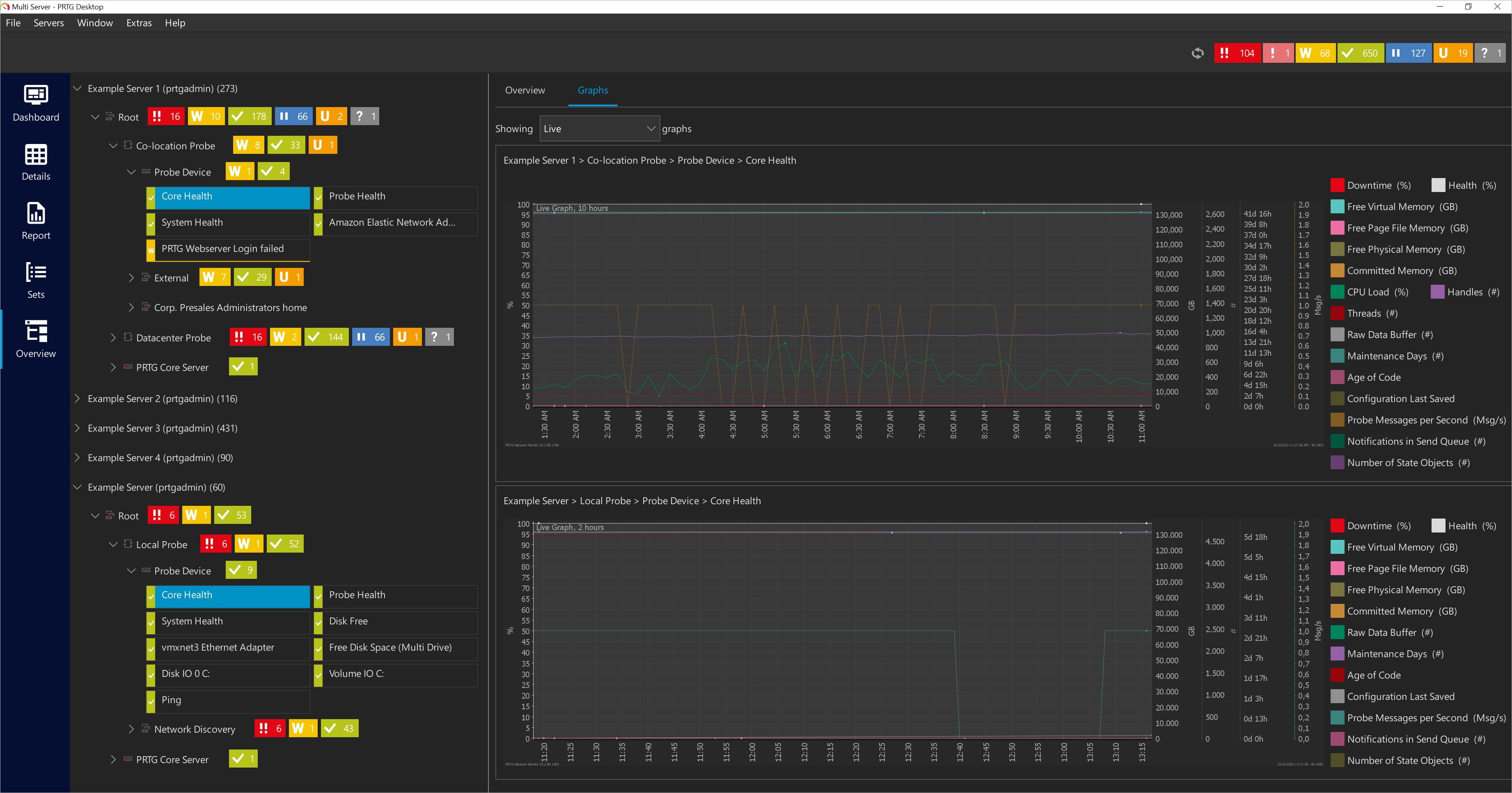 PRTG MultiBoard Details
The "Details" ribbon says it all. Here you can see every detail of your sensors and all of your PRTG servers. You can switch the view between table and tree. You can search for objects, use the filter function, and much more. You get the same functionality as with the PRTG web interface, with the advantage that you can see all your PRTG installations at a glance!
In the future (we are currently still in the development phase, please bear with us 🤍), you will also be able to customize objects and settings across servers.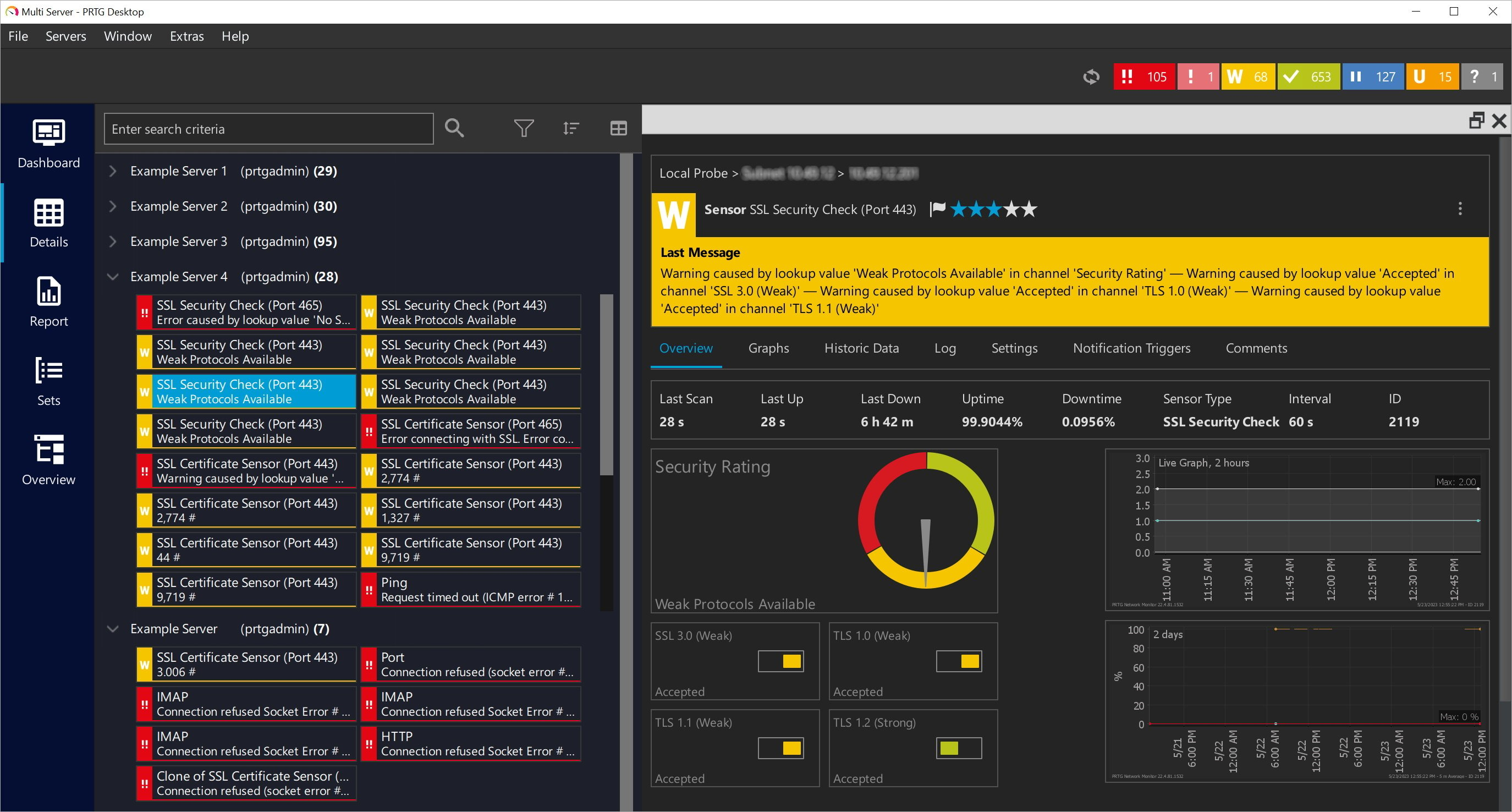 The "Report" ribbon shows a table of statistics from all connected PRTG servers. You can use this, for example, to find out details of the sensor usage across all your servers or to get an exportable list of accounts being used.
Probe Transfer
PRTG MultiBoard also allows you to easily transfer PRTG remote probes. This means you can move PRTG remote probes from one PRTG system to another.
The probe transfer pauses the probes on the source system so that you do not lose any historic data.
You can use this feature to test configuration changes in a staging environment or distribute the workload over several probes.
Activate desktop notifications
PRTG MultiBoard can stay in the background and alert you when needed. Enable the tray icon to receive desktop notifications and configure PRTG MultiBoard to play sounds whenever PRTG discovers changes in your network.
For peace of mind, you can click the tray icon to see the status of all your configured servers at once or a detailed alarms list for each server.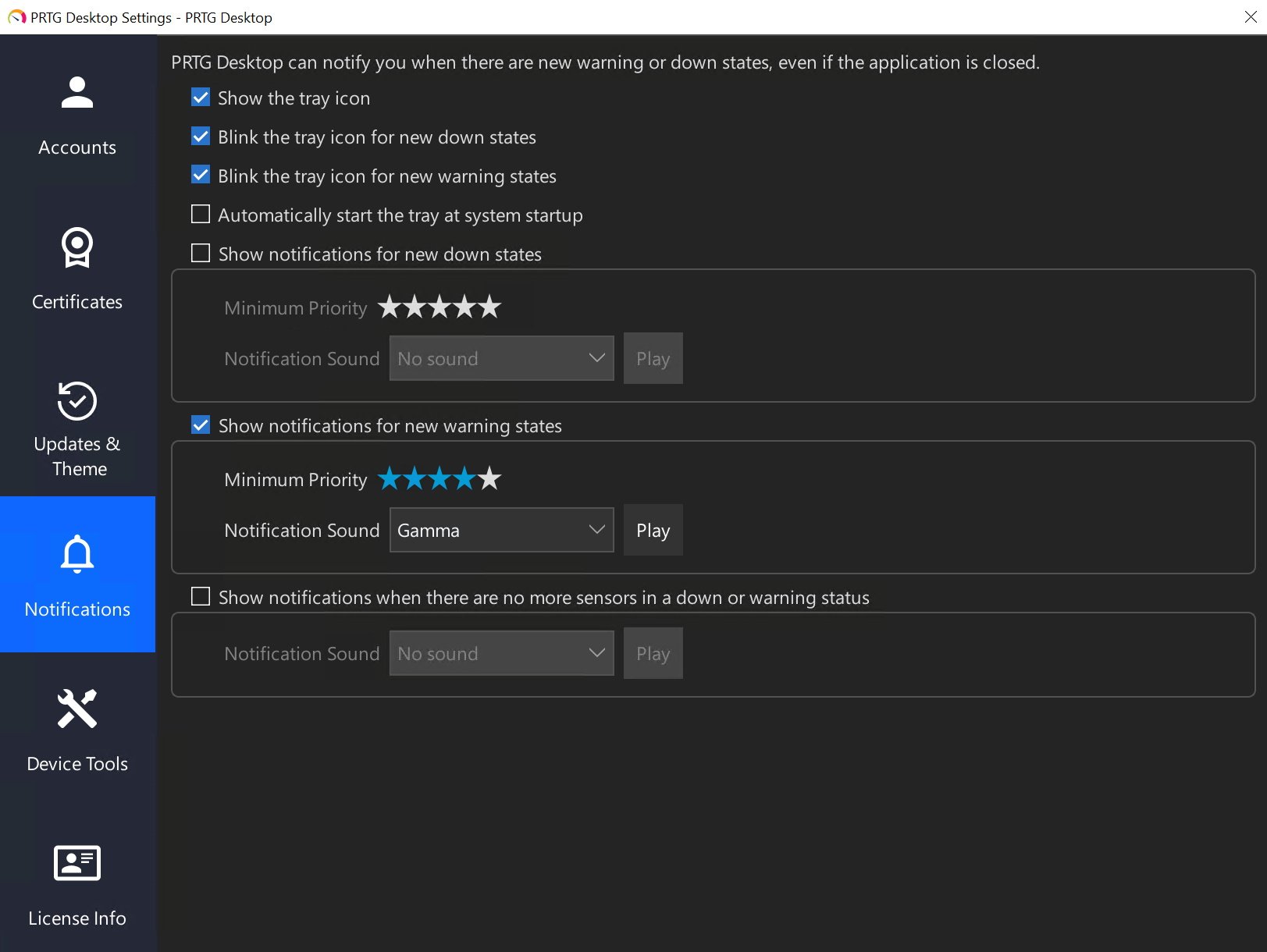 Explore more PRTG MultiBoard resources
We may be finished with this short glimpse into the features of PRTG MultiBoard, but we saved the best news for last: This is just the beginning for Paessler PRTG MultiBoard! Just like all our products and extensions, PRTG MultiBoard will be continuously updated and enhanced. You can expect more features and a constantly growing range of functions.
For all other versions of Paessler PRTG, you can still use our well-known Paessler PRTG app for desktop.