How to Monitor Your Huawei Network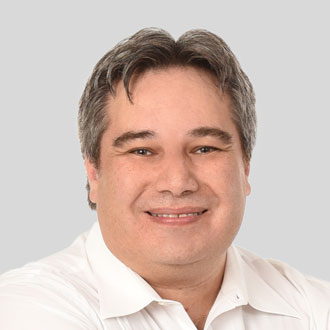 Originally published on February 05, 2018 by Aaron Ross
Last updated on March 03, 2022 • 8 minute read
Huawei is a Chinese multinational networking, telecommunications equipment and services company that was founded in 1987. Huawei has developed product for the Enterprise, Small to Medium Business (SMB) and consumer market.
Just recently on the 5th December 2017, Gartner had published a Vendor Overall Rating on Huawei as positive. With Huawei considered No. 3 Worldwide and No. 1 in China for Data Switch Market share, there is a need to ensure that PRTG Network Monitor can support Huawei devices.
Monitoring Huawei Devices via PRTG
What we want to show is the ability to utilize PRTG to be able to monitor a series of Enterprise and SMB Networking Devices that Huawei manufactures and sells around the global.
For a proof of concept, we're able to simulate the following devices via the Huawei eNSP (Huawei Enterprise Network Simulator), AR3260 Versatile Routing Platform (VRP), S5700-28C-HI Advanced Gigabit Switch and the AC6605 Access Controller.
This is achievable by configuring the Huawei devices with SNMP (How do SNMP, MIBs and OIDs work?). By default most Huawei devices are configured to use SNMP Version V3, however the configuration can be adapted to use either V1 or V2c.
With each device we were able to add a series of standard PRTG sensors such as PING Sensor, SNMP Uptime Sensor and SNMP Traffic Sensor.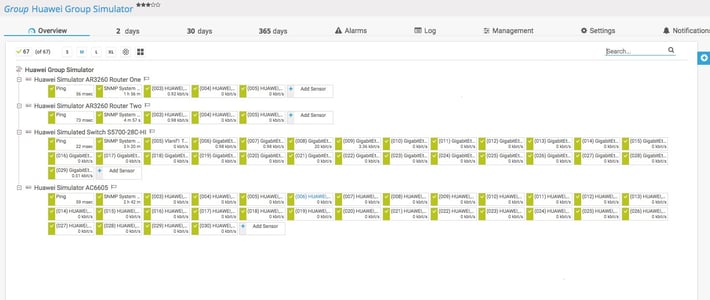 With PRTG SNMP Traffic sensor, we can utilise the 64bit counter to obtain a wealth of information on each interface shown on the Router, Switch and Access Controller.

However, to be able monitor additional sensors, we may require the need to import the Huawei Enterprise MIB. You will be able to find the corresponding MIB and OID information by conducting a search on the Huawei Support site. (Please note that you will need a Customer Account or Partner Account to gain access).
Diving Into the Details
There are other PRTG sensors and third-party tools that will allow to gain additional information Huawei devices. For example, utilising the SNMP Custom Sensor you can monitor the CPU and Memory on the Huawei SNMP enabled devices, using the following OIDs.


We are also able to obtain NetFlow V5 and V9 data from Huawei routers. The following routers have been verified – NE5000E, NE40/X and NE80E (NetFlow).
As for third parties, our Uptime Alliance Partner plixer offers a method to interpret Huawei's NetStream feature and pushes the out Flow Data that we can use in PRTG.
You can also monitor Huawei Optical Networking Units for Temperature, Voltage, Current, Rx Power and Tx Power by utilising the following with the SNMP Custom Table Sensor using the Table OID 1.3.6.1.4.1.2011.5.25.31.1.1.3.1

This blog does not provide a definitive collection of SNMP OIDs and sensors which can be used to monitor Huawei devices. With Huawei's expanding range of networking devices, there will be more options to add Custom SNMP sensors into PRTG.
We recommend to also check with our Sensor Hub and our GitHub repository for any Huawei scripts or sensors that might have been shared by our PRTG community.