Why OPC UA Will Revolutionize Industrial Automation in the Coming Years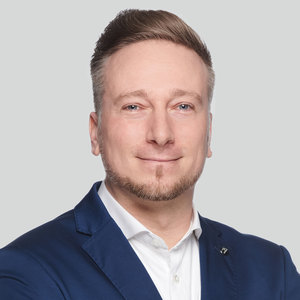 Originally published on July 05, 2019 by Christian Guegel
Last updated on April 01, 2022 • 10 minute read
When we encounter the phrase "Smart Factory" nowadays, we inevitably also encounter the phrase "Machine-to-Machine (M2M) communication". The goal of communication between manufacturing machines is to collect data for further processing and evaluation.
Things such as predictive maintenance and optimization of machine utilization within the production environment are only realistically possible through this. The rapid development in the areas of IIoT (Industrial Internet of Things) and Industry 4.0 is driving this trend even further. Therefore, we see a rising number of nodes being connected in the industrial sector; in Germany for example, there was a growth of 10% in 2019.
M2M communication is traditionally based on fieldbus technology. Classical fieldbus protocols such as Profibus or Modbus RTU have been used for many years, are mature and widely used in networking. The well-known protocols of Industrial Ethernet are Ethernet/IP, Modbus TCP, Profinet and Ethercat. In Germany, Industrial Ethernet protocols have a market share of about 59% with an annual growth rate of 20% compared to fieldbus protocols with a market share of 35% and, for the first time, a decline of 5%.
The increasing spread of the 5G mobile communications standard will also accelerate the development in the field of M2M communication. The use of 5G eliminates the need for physical networking of machines, which could have prevented system integrators from integrating these, especially when the machines are located offsite. Also, in the wireless sector (WLAN, LPWAN, Bluetooth) a clear growth is noticeable, which is stated at 30% per year and already accounts for 6% of the total market in Germany. It is precisely here that I see a clear potential for exploiting the new possibilities offered by wireless networks.
Finding an All-in-One Solution
All components that we want to use for automation must support both the established and widely used fieldbus protocols, but must also be ready for Industrial Ethernet and the TCP/IP protocols that are common in IT.
Here we repeatedly encounter innovation topics such as big data, predictive maintenance and the fact that standard IT systems are also becoming more and more a component of the automation landscape in industry.
So how can these requirements be met in the future, while meeting other demands in the Smart Factory sector. Or more generally: how do we meet the demands in the Circular Economy* of industry 4.0?
* The Circular Economy is to understand as a holistic approach to networked production in general and is not limited to the manufacture of a single product.
This Is Where OPC UA Comes In
At this point, OPC UA (Open Platform Communications Unified Architecture) is already used and will be even more common in the future as an overarching architecture to ensure the necessary information exchange across manufacturers and to ensure interoperability of the various components.
In this context, OPC UA is much more than just another communication standard for real-time communication in automation. OPC UA is rather a service-oriented architecture (SOA) that is based on an IP-based network and is compatible with both IPv4 and IPv6. In addition, OPC UA is platform-independent, flexible in its application, future-proof and can be extended arbitrarily.
Particularly noteworthy here is the independence from the physical transport medium and the transport protocol, which is a decisive advantage of OPC UA over other dedicated IoT data protocols.
The OPC Foundation creates the necessary standards, maintains them and cooperates with the market leaders from industry.
The "PubSub" Standard Enables Communication Down to Sensor Level
The above mentioned OPC Foundation has also released the Publish-Subscribe Standard ("PubSub") for OPC UA as an important extension of the communication standard.
This standard is fully integrated into the existing OPC UA technology and allows the user to roll out OPC UA down to the lowest level of factory production, where there are controllers, sensors and embedded systems that require optimized communication with low latency in local networks.
An OPC UA application can be server or client, but also publisher or subscriber. A discovery feature enables the user to easily find the available OPC UA servers with the related services.
Secure Cloud Communication over OPC UA
"PubSub" also enables the use of OPC UA in cloud or multi-cloud environments through the use of popular cloud protocols such as MQTT and AMQP. A typical use case for this are scenarios in which many senders communicate with one receiver, e.g. a condition monitoring service in the cloud or a cloud-based optimization service. At the same time, OPC UA retains an important advantage, namely end-to-end security and standardized data modeling.
Creating a Normed Communication with DIN SPEC 92222
DIN SPEC 92222 implements a reference model for the industrial "Cloud Federation". The goal is a uniform communication from the field device to the multi-cloud application based on OPC UA. Companies such as Bosch, IBM, Fujitsu, Microsoft, Fraunhofer research institutes and the VDMA and Bitkom associations are involved.
To achieve the goal of consistent and standardized communication, the number of technologies, norms and standards to be used should be minimized. Uniform interfaces are defined for routing between clouds as a prerequisite for a multi-cloud infrastructure. It is worked out which transport protocols should be used for which application. The specific implementation determines how, for example, the configuration and provision of necessary components (e.g. brokers, relays or routers) are to be made. Moreover, specifications for uniform authentication and authorization are created.
OPC UA – Secure by Design
In a high-tech industrial environment, the security aspect is an important criterion when it comes to data transmission and the implementation of new technologies.
Therefore, members of the OPC Foundation have joined together their expertise, founding a security user group. The Security Working Group of the OPC Foundation has published a white paper defining the security measures and Practical Security Recommendation for building OPC UA Applications. The document seeks to give a condensed overview of the recommended security measures, which are used in "best practice" installations and is available as a free download.
OPC UA Evolves to M2M Communication Standard
Due to the constant further development of OPC UA through the OPC Foundation and the high manufacturer and industry-wide acceptance in the industry, OPC UA is currently the most widely used, platform-independent communication standard to ensure interoperability and information exchange between machines and systems.
With over 610 OPC Foundation members and thousands of OPC UA compliant devices OPC UA offers a future-proof framework for M2M, Smart Factory / Circular Economy and Industry 4.0.
The development scope, which is always open to public inspection, and the number of members impressively show where the journey is heading in terms of standards in industrial automation.
Sources and Useful Links: