I Only Wanted a GeForce Titan And Two Curved Screens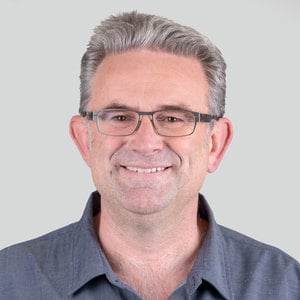 Originally published on June 21, 2017 by Thomas Timmermann
Last updated on March 03, 2022 • 12 minute read
I've been trying it again and again for the last 10 years, but I haven't been successful [so far]: I wanted a cool gaming machine for my job as a writer and editor at Paessler, giving me a little advantage for our after work gaming sessions. As I was bringing our administrators close to a nervous breakdown with my regular requests, Nina from our IT-team finally came to me and explained our hard- and software deployment processes here at Paessler to me. And I must admit, it sounds somehow reasonable for me, although they don't offer GeForce Titans and curved screens. Here is what Nina said:
At Paessler, we are convinced that you can only do a good job when you get the best tools for your tasks [Obviously, I couldn't yet convince our IT, that my main task is to capture the flag!]. We're all working in the IT, so our tools are PCs, laptops, smartphones, monitors, keyboards, etc. And of course, the right software tools for development, graphics, sales…. As always, each user has their own preferences and habits. Some love Apple and would never touch an Android or a Windows device, others are MS Surface fans or don't want to miss the flexibility of a Windows environment with their workstation.
But it's not only about personal preferences: software developers have other hard- and software requirements than graphics designers or sales representatives. And it also doesn't make sense to give high performance hardware to a colleague who's only working with office software and our web-based internal systems, just because he would like to have a killer graphics board and a 4K screen [What a bummer, you can't place a clean headshot with MS Word!].
We must always keep in mind that each single setup costs time and money. Fulfilling all individual wishes would cause an enormous workload on our IT, so instead of giving employees completely free choice of hardware, we offer packages for different user profiles:
The Office Worker
You work in customer support, sales, or back office with no special requirements for your hard- or software. All you need is MS Office and access to our internal, browser-based systems.
The Mobile Guy
You must travel a lot so you need a mobile device to use on the road as well as in the office. But you normally don't need high-end graphics or computing power, it's more about battery duration and weight.
The Designer
You will probably want to use a Mac as a traditional graphics tool. And of course, a high-end screen. Or two. Or three.
The Developer
You need a powerful workstation for handling build processes and huge compiling sessions. And you might want a 4K screen to get the big overview about your code. Plus, additional screens for better workflows.
[Hey, what about the gamer?]
Some decisions are made by our employees themselves, others due to company policy. Each employee can e.g. choose whether they want one, two, or three screens on their desk [Two, I only want two-but curved ones!]. They can choose their preferred keyboard, mouse, or headset-from a choice of options our IT team has defined. To claim for a laptop there must be a certain demand, could be that you're travelling a lot for the company or that you're in meetings very often. If that demand exists, you can choose between several options depending on what your preferences are: performance, battery duration, screen size, weight…
Regulations
Of course, a high-end laptop is much more expensive than a standard desktop. So, if your job never requires any mobility from you, it doesn't make sense to go with a laptop. If it's for a once-a-year trade show visit, we offer some laptops: just book it as a resource in Outlook and grab your laptop for a week or two.
Reducing our offers to a few options allows us to keep our installation efforts lean - having to handle only a limited number of images. (We have just one for windows clients) And of course, we get better conditions at our retailer when ordering 10 MS Surface laptops instead of one Lenovo, one Acer, one… We have a custom store at our retailer's webshop in which we only see the devices that we agreed on with our retailer. That makes the order process lean and simple.
The Offer
To create the right balance between individual demands/wishes and a reasonable workload for our IT team we created different sets for the different employee profiles:
Office Set
This set comes as a Dell workstation with an Intel Core i5 processor, 8GB RAM, and a 128 GB SSD.
Mobile Set

Microsoft Surface Pro 4 (Intel Core i5, 8 GB RAM, 256 GB SSD)
Dell Latitude laptop with a 12.5"/14" display, each with an Intel Core i5, 8/16 GB RAM, and a 256 GB SSD.
MacBooks Pro with 13"/15" Retina display. As Apple has some restrictions regarding business support and compatibility issues, the MacBooks require a special technical need.

Developer Set

Dell Precision desktop machine with an Intel Core i7, 16 GB RAM and a 256 GB SSD.
Option of a Dell UltraHD 27" screen (3840 x 2160 px)

Graphics Designer/Video Editor Set

Apple iMac with 27" (5120 x 2880 px)
MacBooks Pro with 13"/15" Retina display
Option of a Dell UltraHD 27" screen (3840 x 2160 px)
Additionally, we offer a choice of different keyboards, headsets, mice, etc. As a standard screen, we offer up to three Dell 24" IPS monitors (1920 x 1200 px) per employee.
Of course, this is a living list: New technologies, changing prices, availability, and other reasons force us to scrutinize this list all the time. But that's part of an agile process and it's something we like: Technology is our job and we love to evaluate new stuff ;)
The Setup
When the decision is made, we order the devices (we always have some standard devices in stock). Most devices will arrive within a few business days. We then have a standard setup of tools and programs to be installed on each device. For the Windows clients, we use the combination of Windows Deployment Services (WDS) and the Microsoft Deployment Toolkit (MDT). We set up new devices and install the device's drivers plus a standard software set which we use for all our computers (MS Office, virus scanner, VoIP software, selected, tested and approved tools for taking screenshots, reading PDFs, and so on).
If an employee has a special need for a certain tool, we can use our asset management solution to remotely add that software onto his computer. Our developers have admin rights on their computers so they can install the development tools they need for their tasks by themselves.
As our graphics department is a relatively small team, we haven't had the need yet to automatize our Mac installation process. But right now, we're working on that as there are also developers who need / prefer a Mac environment.
Keeping the Balance
With up to 5 (and sometimes even more) new hires per month, we must find the balance between a lean order and setup process, and the best individual tools for each expert at Paessler combined with their individual preferences. And of course, we also must keep an eye on our budget. With our current model, we established a good working process. We can provide new employees with a standard set of exactly the tools they need for their job and we can also offer each employee enough freedom of choice to satisfy their personal preferences. All within our budget and with a lean and simple setup process. [Okay, got it. I'll go the strategic way. My next step must be to establish 'the gamer' as a user profile…]