Retrofitting: 3 steps to boost the productivity of old machines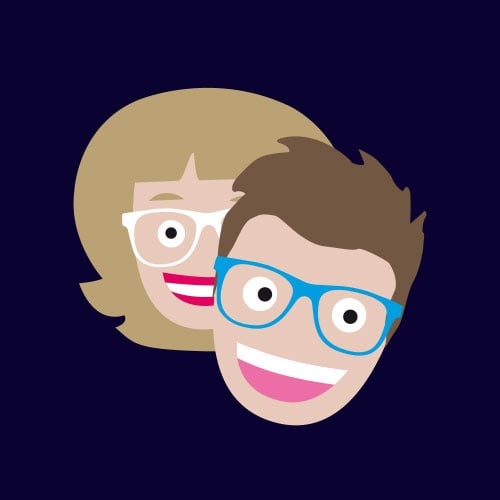 Originally published on June 14, 2021 by Guest Author
Last updated on April 01, 2022 • 9 minute read
With the rise of Smart Manufacturing and Industry 4.0, industrial IT is developing fast, and with it the possibility to monitor the condition of the production equipment in a factory.
We can deploy physical sensors to collect data from the factory floor and process and visualize it on a dashboard on a workstation. This gives us an overview of the condition of the machines, and enables us to secure maximum uptime and increase maintenance efficiency.
However, not all machines allow for direct integration of sensors. Especially older machines require a retrofit solution instead - an external sensor system monitoring vital machine parameters without being directly connected to to the machine.
Easy solutions wanted
How can we do that easily and without adding an extra layer of complexity and uncertainty to the factory setup? German expert in industrial radio communication Schildknecht has developed a system to do just that: Retrofit of sensors. It's called "IoT Ready-to-Use", and as the name suggests, the Schildknecht engineers have designed it specifically with easy installation and flexibility in mind.
For instance: its multi-sensor has magnets for easy installation, and the system's gateways use radio communication to send monitoring data to a cloud portal to avoid the hassle of installing extra wiring.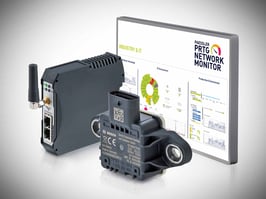 The data from the Schildknecht system can be just as easily integrated into PRTG. This opens up new possibilities for the convergence of IT and OT for retrofit use cases. In other words: You can even give older machines an "intelligence boost" through powerful condition monitoring and IoT capabilities.
Case study: Automotive parts
Later in this blog article we'll present three easy steps to get the Schildknecht IoT Ready-to-Use system for Condition Monitoring up and running in your factory. But before we get to that, let's guide you through a use case where the system has been put into operation: retrofitting machines in an automotive parts factory.
A large car parts manufacturer in Portugal wanted to retrofit several hundred machine tools – about 12 per production line. The project was challenging in a number of ways due to the variety of machines and the requirement to perform the Condition Monitoring retrofit quickly and without any significant impairment of the on-going production.
Management wanted all machines to be upgraded to provide four operating parameters:
Temperature inside the switch cabinets
Temperature of the cooling
Temperature of the oil-hydraulic circuit
Pressure of the hydraulic circuit
Further requirements were: optimal bridging of machine distances for signal transmission, and the use of a powerful and established communication system suitable for easy integration into already existing IT applications. In addition, it should be possible to call up the values directly via dashboard.
A closer look at the system
These requirements were met by implementing the DATAEAGLE Condition Monitoring System (CMS), using Bluetooth for data transmission together with PROFINET as communication technology.
Let's have a closer look at the system and how data travels from the retrofitted sensors to the dashboard:
Analogue (4-20 mA) sensors were installed at the machines and connected to a Bluetooth hub transmitting the sensor values from each machine to the central gateway. As an alternative, sensors such as the CISS multi-sensor from Bosch can provide the measured values digitally and via Bluetooth. The sensor signals are received by the DATAEAGLE 2730 Gateway via its maximum of 8 Bluetooth parallel connections and converted on the output side to common communication technologies such as PROFIBUS, PROFINET, etc. The data can then be forwarded to other systems, such as a PLC, an industrial PC with a local visualization system, or the cloud. In this project, PROFINET was used together with a Siemens controller providing the data in the network and for visualization.
With the Schildknecht IoT Ready-to-Use solution, the management of the car parts manufacturer in Portugal achieved the goals it had outlined. The system could be retrofitted on site with the least possible installation efforts and disruption to production. Installation was easy and efficient, due to the fact that the DATAEAGLE CMS contained all necessary components in one complete solution. Proven and battle-hardened communication technologies like Bluetooth and PROFINET secured stable data transfer.
Non-invasive monitoring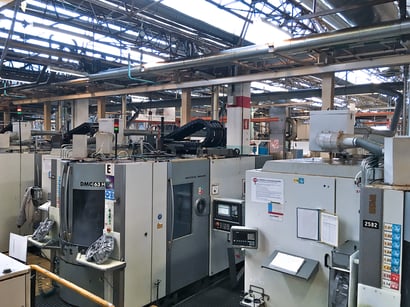 If you have a large number of older machines in your factory, with all the problems that go with it in regards to repair and spare parts, you would want to monitor them closely to ensure maximum uptime and to extend their life span.
A non-invasive, flexible and easy-to-use monitoring system like Schildknecht IoT Ready-to-Use would be a good choice. Its wide range of sensors is sufficient to get you the data needed.
And when you've decided on what data you want to collect, the system is easy to install. And you can adjust and expand your Condition Monitoring solution easily, as the Schildknecht wireless concept with de-centralized sensors and central gateways gives you the flexibility to adjust your setup along the way.
3 easy steps
To develop a working solution, these are the three steps to take:
Reach out to the Schildknecht Condition Monitoring experts for a 60-minute workshop to discuss and define your specific use case. We recommend that you start your retrofit sensor project by finding the pain points in you factory: Where does a failure of a machine lead to a halt in production? Where are you experiencing the most frequent unplanned maintenance of for instance motors or pumps?


Install the IoT Ready-to-Use system on site. This installation video shows you how it's done: https://www.youtube.com/watch?v=jYm4etsl7WU


Get the data in PRTG. A recent PRTG update enables monitoring of Modbus devices, such as the DATAEAGLE IoT gateway. This means it will be connected with a default template to PRTG. When the sensors start sending data, you can configure and monitor the values in PRTG, or optionally in a cloud dashboard.
If you have an acute problem on your hands with older machines in need of a retrofit sensor system, don't hesitate to reach out to either Schildknecht or to Paessler for an in-depth discussion of your needs. Schildknecht's sensor and wireless communication specialists and Paessler's monitoring experts can help you monitor your older equipment – and help you reduce downtime, unplanned maintenance and weekend emergencies – with flexible & Remote Condition Monitoring.