Microsoft Teams Mondays: "Polly" Wants a Cracker But the Team Wants Pizza? Let's Vote!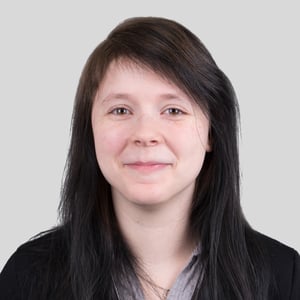 Originally published on August 07, 2017 by Nina Wildfeuer
Last updated on March 03, 2022 • 6 minute read
Hey, do you use Microsoft Teams in your company? We started using Teams a few months ago, and we've learned a lot since we started. So now we'd like to pass on a few tips, tricks and information about useful features that we've learned. Maybe you can use some of these new ideas or find some tips which help you to improve your MS teams experience. This is the start of our Microsoft Teams Monday series.
What is Microsoft Teams?
Microsoft Teams is a chat-based workspace in Office 365 that's a hub for teamwork. It's extensible and customizable, so you can tailor it for the information your team needs. Microsoft Teams supports flexible communication, including chats, calls, meetings, and private and group conversations. (*Source)
The most functions and features are easily accessible. But there are always questions. A good page for start is this site and the first steps guide on Youtube.
What is Polly?
Polly is a bot that enables you to use polls and even gives you the chance to analyze the results. (*Source)
You can set up to 5 possible answers for your question. You can simply click on the answer you wish to choose. If you change your opinion you can always select another one.
If you are interested in its current and planned features check out their website.
How do I set up Polly in my Team?
First off all you have to add Polly to your Team:
Click on the 3 dots next to your Teams name and select view Team.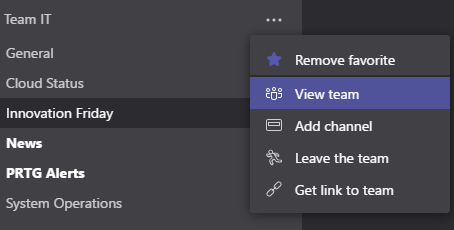 Navigate to the bots tab and click Discover Bots

Search for Polly and add it to your bots!

How do I work with it?
To start a poll simply follow one of these schemes:
@polly What should we order for lunch? pizza,sushi. In this example, the question needs to have a question mark, and the options should be comma separated
@polly What should we order for lunch? / pizza / sushi. In this example, the question and each poll option need to be separated by a forward slash
@polly "What should we order for lunch?" "pizza" "sushi". In this example, the question and each option needs to be enclosed in double quotes (*Source)
Make sure to press TAB after tagging Polly.
When you send your request it takes a few seconds until your poll appears. It will look like this: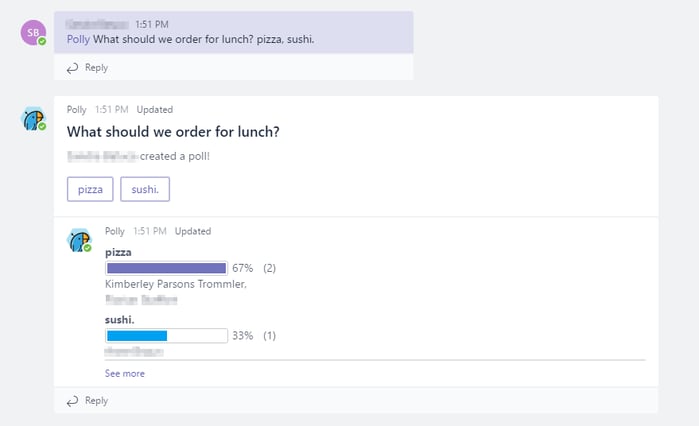 You can now click on your favorite option. It will not show the results immediately. You will need to tab out and in that you can see the results.
If you want to analyze your polls, you need to add Polly into your channels. Simply click Add Tab (+) and add Polly (you should do that before setting up any polls):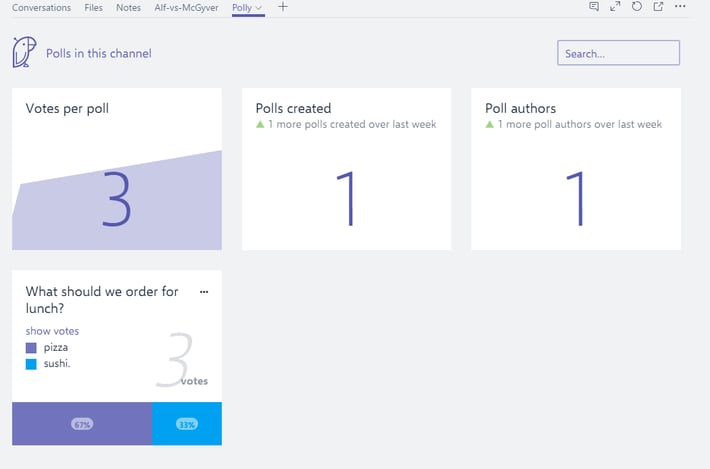 I hope you found this article useful. Don't miss our next MS Teams tip -- subscribe to our blog now.