The Most Important Learnings from the Paessler Customer Survey
Originally published on March 06, 2017 by Anne Christin Braun
Last updated on March 03, 2022 • 4 minute read
Even after 20 years in business, we are super proud every day that 180,000 admins rely on PRTG Network Monitor to keep track of more than 5 million devices. Hearing how they use our software and what they would like to achieve with it is key to our development and ensures we are supporting system administrators in the right way. This is why we are always happy to hear from users, whether they meet us at an event, shoot us an email or take part in our customer survey.
We send this survey to our customers six weeks after their initial purchase and in 2016 528 users answered the questionnaire.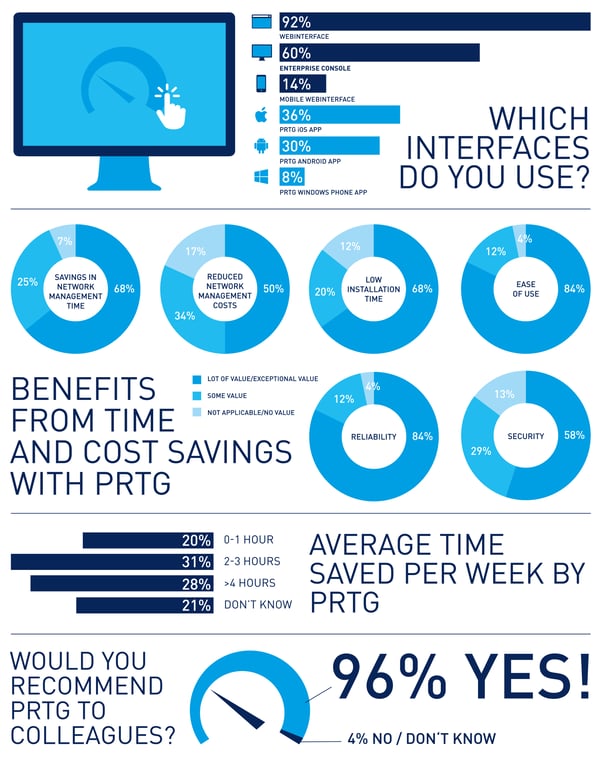 The 4 Key Learnings from our Customer Survey
1. Mobility Continues To Gain Importance
The number of users who keep tabs on their network with the help of one of our mobile apps has jumped from 60 % back in 2015 to 74% in 2016. If you're not using our mobile apps for iOS, Windows Phone and Android and are wondering where to get them, here they are. And you know what's best? They are completely free of charge!
2. Respondents State Ease Of Use, Reliability And Time Saving As PRTG's Outstanding Benefits
84% of all respondents stated that PRTG is of high to exceptional value with regards "ease of use", while 84% stated this in regard to its "reliability". 68% of respondents say PRTG offers them high to exceptional value when it comes to "saving network management time". And almost 1 in 5 say PRTG saves them an average of 5 hours a week or more.
3. Fewer People Are Contacting Our Support Team
The continuous investment in the usability of our software seems to be paying off, as fewer users are contacting our support team within these 60 days. 55% of respondents stated that there was no need to get in touch with support in 2014, compared to 60% in 2016. 87% of those who contacted our support colleagues found them to be "competent".
Tip: There is a strong sense of community amongst our users. You can be a part of this by contributing to our Knowledge Base and PRTG Sensor Hub!
4. Users Recommend PRTG To Their Peers
A whopping 96% would recommend PRTG to a friend or have already done so, while only 3% said they would not. If you'd like to share your thoughts on our software and/ or recommend it to other IT pros you can do so on Trustpilot.
Thanks to everybody who participated in our survey or provided feedback through different channels, it's highly appreciated.